ADOT works to wrap up US 89 geotechnical investigation
ADOT works to wrap up US 89 geotechnical investigation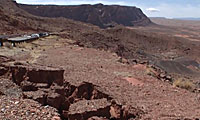 Just as construction to upgrade N20 begins, ADOT is wrapping up its geotechnical investigation at the US 89 landslide site…
As we've mentioned before, the geotechnical investigation is the first phase of the solution – the ultimate repair of US 89 will be based on the results of the geotechnical work happening right now.
And, you can see in the video above, that work has come a long way.
"I think we have a much better feel for what's going on now than we did on February 20," says Keith Dahlen, geo tech engineer with Kleinfelder. "We're mapping, we're drilling, we're doing test pits, we're just basically creating an underground map of what's happening."
We hope you recognize some of the geotechnical terms used in the video (inclinometers and TDR), but there might also be a few new ones that you don't know.
If you stay tuned to the blog, we'll shed a little light on those words and we'll, of course, continue to keep you updated on the progress of US 89 and N20.