ADOT's Insurance Recovery Unit helps recover taxpayer money
ADOT's Insurance Recovery Unit helps recover taxpayer money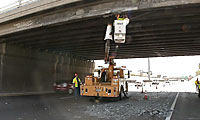 We've blogged before about what happens after a crash on the state highway system...
ADOT and other agencies respond and often, there's quite a bit of work to be done before the scene is cleared. That work can range from hazardous materials cleanup to guardrail fixes and even overnight emergency pavement repairs.
But, what we haven't delved into before is who actually pays for the damages.
If you get into a crash with another vehicle and the driver is at fault, you expect the damages to be covered by the other person or their insurance company. Because ADOT has the same expectation, $2.9 million in highway damages was recovered in 2012.
ADOT has an Insurance Recovery Unit that is made up of insurance industry professionals who are responsible for recouping the cost of damages to the state highway system. The recovered repair costs, which include labor, equipment and materials, go back into the state highway fund. This saves taxpayers from shouldering the expense of repairing accidental or negligent damages done to the highway system and puts the burden on the responsible party and their insurance carrier.
The recovery process begins when law enforcement responds to an incident where guardrail or some component of the highway system was damaged. The officer will mark the damaged item with a sticker that has the police report number on it. ADOT maintenance is then notified of the damage and makes the repair. A member of the Insurance Recovery Unit will utilize the police report to contact the individual or their insurance company to file a claim.
"Insurance recovery is a key component to being good stewards of taxpayer dollars," said Sonya Herrera, safety and risk management director. "The person who damages state property should be accountable for the associated cost of repairs. This unit helps ensure that this happens."
A recent example of insurance recovery was the damage done to the Jefferson Street overpass along Interstate 17 in downtown Phoenix last October. After the driver of a semi involved in the hit-and-run damage to the bridge was identified, the Insurance Recovery Unit set to work managing the claim with both the driver and his insurance company. More than $56,000 has been recovered for the damage to the overpass.
Over the past four years, ADOT has processed more than 8,500 claims.
"The work these individuals do is outstanding," said Herrera. "They help save taxpayers millions of dollars each year."