From the Archives: Deck Park drainage tunnels
From the Archives: Deck Park drainage tunnels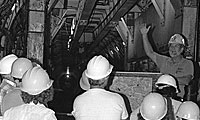 We keep referring to the tunnel as a tunnel, but as many of you might already know, the Deck Park Tunnel isn't technically a tunnel at all. It's actually made up of 19 bridges that are lined up side by side, creating a tunnel effect for motorists.
But there are actual, honest-to-goodness tunnels that were dug during the project.
They're massive and they were constructed underground to serve downtown Phoenix's drainage needs since the new section of I-10 interrupted the storm drains that were in place. According to "The Final Mile," a document published by ADOT to commemorate the completion of Interstate 10, crews created a drainage tunnel system measuring a length of about 6.5 miles. For 5.2 of those miles, the tunnel measures 21 feet in diameter and for 1.3 miles, the tunnel is 14 feet in diameter (we told you they're massive!).
Ron Romley retired from ADOT in 1992, but served as ADOT's project manager during the drainage tunnel project and oversaw the contractors who did the digging.
You better believe that digging wasn't done with shovels (referred to as "muck sticks" by the contractors. "All those guys in the tunneling industry talk in a different language," Romley said. "There was lot of nomenclature that I had to learn.").
There was a machine that did the work – two of them, actually, each with a different diameter capacity. Built in Japan, the tunneling machines were disassembled and shipped to California, loaded onto trucks and brought to Arizona for reassembly.
"It came in 23 semi loads from Los Angeles," Romley recalls. "The machine was something I'd never seen before."
A porthole was dug so the tunneling machine could be lowered down to the correct elevation. Once it was in place, the excavation began.
Romley said there were trains running underground all the time to convey the dirt and haul it out of the tunnel. According to "The Final Mile," the three underground trains had the hauling capability of moving five semi-truck loads of dirt (92 tons) at a time. Excavation equaled 1.5 million yards of earth. Romley said much of that excavated material was reused to make the concrete used for the final "lining" of the tunnels. Roughly 190,000 cubic yards of concrete was used to finish off the drainage tunnels, along with 35,000 pre-cast segments and about 19 million pounds of reinforcing steel, according to "The Final Mile."
"It was quite an operation," said Romley, who besides overseeing the construction also gave tunnel tours to the public during the construction, which you can see in the photos above. "That was the neatest project of my whole career. It was the most challenging and the most rewarding to me as an engineer."
It's safe to say things have changed since 1912 when the Arizona Highway Department was first established. But you don't just have to take our word … we've got plenty of pictures to prove it. We combed through our archives and decided to periodically post these photos from the past in a blog series we're calling, "From the ADOT Archives."