From the Archives: Engineer-In-Training program
From the Archives: Engineer-In-Training program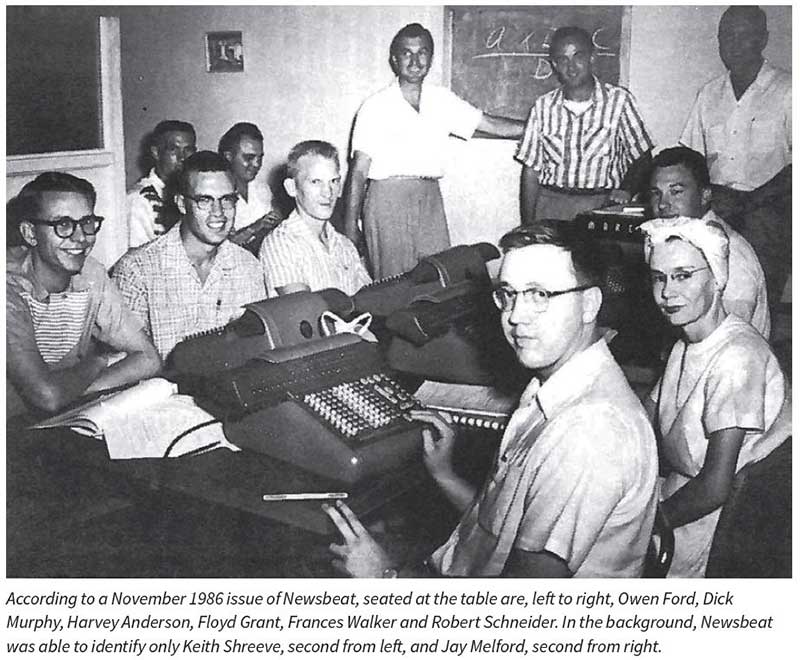 By Angela DeWelles / ADOT Communications
In 1956, engineers from the Arizona Highway Department were using big calculators to make huge progress on the state's transportation system. When this photograph was taken, President Dwight D. Eisenhower had only just recently signed the Federal-Aid Highway Act of 1956 into law and road construction projects were about to kick off at a record pace across the country.
But the era it's from isn't the only thing that makes this picture notable.
The woman and men shown were early participants in the department's Engineer-in-Training program. The illustrious class included Walter Owen Ford, who ended up serving as ADOT's state engineer from 1985 to1988, and Frances Walker, the first female engineer employed by the Arizona Highway Department.
Here's what was written about Walker on June 19, 1956, in the Highway Spotlight, a publication billed as the "official news bulletin of the Arizona Highway Department."
"On June 25th, a young Arizona girl who received her Bachelor of Science and Civil Engineering degrees from the University of Arizona at Tucson on May 29th will have the distinction of becoming the first woman ever employed by the Arizona State Highway Department as an Engineer."
"Mrs. Frances Sprawls Walker, 25, will enter on duty next Monday under the Engineer-in-Training program. Wm. N Price, Traffic Civil Engineer, who is supervisor of the program, said that Mrs. Walker's first training assignment with the State Highway Department will be in the Construction Field Office at Phoenix."
"The Engineer-in-Training Program recently organized at the Highway Department for development of young graduate engineers, extends over a two year period. During this time, the trainees serve various periods of time in the nine divisions of the Engineering Department to receive diversified experience in all phases of highway construction."
Today, the Engineer-in-Training program is still going strong. The two-year program offers new engineers the opportunity to gain practical training and hands-on experience. Many men and women got their start in the field through the EIT program, including ADOT's first female state engineer, Jennifer Toth.
Find program details on the ADOT website.
It's safe to say things have changed since 1912 when the Arizona Highway Department was first established. But you don't just have to take our word … we've got plenty of pictures to prove it. We combed through our archives and decided to periodically post these photos from the past in a blog series we're calling, "From the ADOT Archives."