From the Archives: Traffic School
From the Archives: Traffic School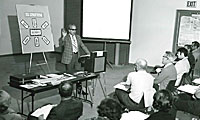 Maybe you didn't wake up this morning thinking that you'd get to see a photo from a traffic safety class held in 1973, but now that you have, aren't you glad you got out of bed?
OK, maybe traffic school isn't the most picturesque subject (certainly not compared to other topics we've covered), but it does give us the chance to segue over to our website and point out where you can find information on Traffic Survival School today.
Traffic Survival School (TSS) is designed to reach individuals who have exhibited a disregard for traffic laws and the safety of others. The TSS Program attempts to modify the behavior of these drivers by teaching them how to avoid adverse traffic situations by increasing their knowledge of Arizona traffic laws, defining their responsibilities while driving, and most importantly, improving their attitude toward safe driving.
In other words, if you run a red light, get a DUI, or have too many points against your license, you'll be required by MVD to attend TSS in order to keep your driver license in good standing. You'll be notified of this requirement through a Corrective Action Notice from MVD.
Additionally, courts can and do order juveniles who have exhibited poor driving behavior to attend the course (helping them to establish a lifetime of safe driving habits). Courts may also refer traffic violators to a Traffic Survival School as a condition of sentencing.
A quick note – Traffic Survival School should not be confused with Defensive Driving Schools, which are administered through the Arizona Supreme Court. Defensive Driving School is a court diversion program that allows eligible drivers to have the violation dismissed. If a driver chooses this option, and is eligible, the violation will not be included on his or her driving record and no points will be assessed for the violation.
TSS is administered by the Arizona Chapter National Safety Council, through a contract with ADOT. These schools train and assist errant drivers in the proper attitude and techniques in the operation of motor vehicles and strengthen their knowledge of state motor vehicle laws.
If you are required to attend TSS, you'll be glad to know that the Arizona Chapter National Safety Council website makes it easy to search for classes near you. The site allows users to search for classes by address or ZIP code and you can also search by date to find a convenient time.
Now, back to that photo…
We don't have too many details, other than the date it was taken (back in Dec. 1973) and the location (ADOT's equipment auditorium, which was new at the time). If you zoom in close, you can read the information being presented on the board. It lists six conditions that lead to accidents, including light, weather, road, driver, vehicle and traffic.
New traffic issues have undoubtedly been added to modern curriculum since 1973, but it definitely looks like those drivers from 41 years ago were getting a good lesson!
For more information on Traffic Survival School, please visit our MVD website.
It's safe to say things have changed since 1912 when the Arizona Highway Department was first established. But you don't just have to take our word … we've got plenty of pictures to prove it. We combed through our archives and decided to periodically post these photos from the past in a blog series we're calling, "From the ADOT Archives."