Arizona's first pre-fab bridge saves $2.6 million
Arizona's first pre-fab bridge saves $2.6 million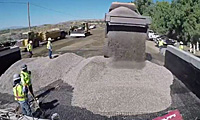 By Ryan Harding / ADOT Communications
In less than four days last month, crews installed a 110-foot prefabricated bridge – Arizona's first ever – along Oatman Highway, about a mile north of Interstate 40 in Topock. As bridge projects goes, that's lightning fast. The video above gives you an idea of the speed.
ADOT administered this project for Mohave County, which received a $1 million Federal Highway Administration grant toward the $1.8 million total cost.
Assembling the elements in advance at another location not only saved $2.6 million on the project but greatly reduced the time required for construction. That greatly reduced how long Oatman Highway had to be closed.