With an assist from a famous source, ADOT rocks highway safety
With an assist from a famous source, ADOT rocks highway safety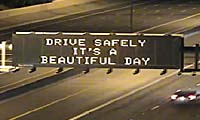 By Caroline Carpenter / ADOT Communications
One of the one of the best-selling musical acts in history with more than 20 Grammys, played Glendale on Tuesday night. Because of U2's international recognition, ADOT played off of the band's lyrics to promote highway safety and even managed to catch the attention of the band!
The post above from U2's Instagram account received more than 58,000 likes. Our sign reminding drivers to use their blinkers was also featured on U2's official Facebook page.
We received plenty of feedback on the signs.
While we're glad you enjoyed the signs, we also hope you remember the underlying safety message when you're behind the wheel. As our last Crash Facts report showed, Arizona motor vehicle crash deaths rose last year, and the leading factors – speeding, impairment and seat belt use – are all under our control.
We hope the messages you see on the highway change driver behavior by prompting conversations in homes, the workplace and elsewhere. The keys to safety are in your hands, even where the streets have no name.