Attenuators offer safety on the freeway
Attenuators offer safety on the freeway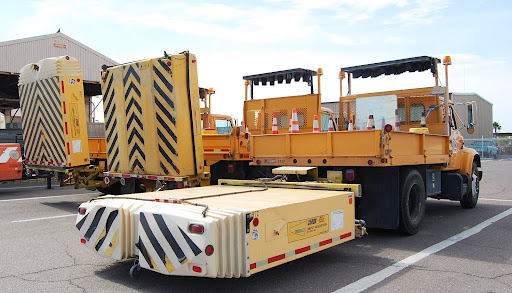 Sometimes the simplest concepts work the best.
Take for example the truck-mounted attenuator. Maybe you aren't too familiar with them, but chances are you've seen one when driving on the freeway.
They're the big rectangle-shaped "boxes" attached to the back of certain ADOT trucks. And, while the attenuators may not look fancy or impressive, they save lives.
"Anytime we're going to be working on the side of the road, we use them," said ADOT Maintenance Superintendent/ALERT Supervisor Tom Donithan.
Inside the attenuator "box" is just a honeycomb configuration of aluminum, Styrofoam and air space, according to Donithan.
Attenuators act as a kind of shield that stands between freeway traffic and ADOT crews. If a motorist travels into a freeway work site they'll hit the attenuator instead of a heavy truck, or ADOT workers.
While it's likely not a soft landing, the attenuator is designed to take the impact and crumples together as it absorbs the energy of the vehicle.
"They do their job. We don't go on the road without them," Donithan said.
ADOT has been using the truck-mounted attenuators since 1990 and Donithan says typically at least one gets hit each year – but there have been four hit so far this year.
Truck-mounted attenuators are for the protection of drivers and the ADOT employees working on the roads. They're so useful that Donithan says if an attenuator isn't available, then his crews will wait until one is ready before heading out to the freeway.
"We take it very seriously because it is our lives and our co-workers lives," he said. "If you didn't have the attenuator there, your chances are much higher if you do take a hit, that hit is going to cost someone's life."