AZ 511 system wins award, but you're the big winner
AZ 511 system wins award, but you're the big winner
By Laurie Merrill / ADOT Communications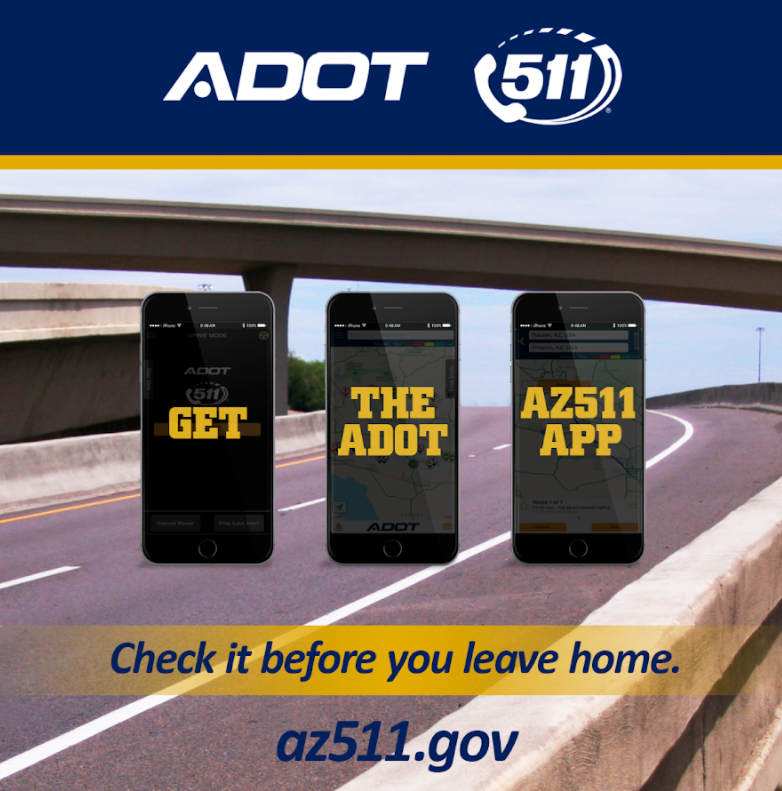 In 2018, ADOT set out to modernize its AZ 511 Traveler Information System that allows motorists to quickly find out about traffic conditions. 
The goal was to help you avoid traffic jams and road closures by creating several ways for you to get essential highway information. 
The mission, as they say, was accomplished and with flying colors! 
This year, the Intelligent Transportation Society of Arizona named ADOT's updated AZ 511 system the "Best ITS Implementation Project in Arizona" of 2020.
But, the real measure of success is you, the motorist. And you have flocked to the AZ511.gov website, 511 phone system and AZ 511 app.
ADOT's goal was to make is easier for you to avoid sudden changes in road conditions, construction sites and weather emergencies. We wanted to provide speed maps, so you could check on traffic flow and offer information about wait times at international borders.
The result: An intelligent traffic system that lets you make informed decisions.
The spiffed-up AZ 511 system also offers a personalized experience with "MY AZ 511." This provides tailored information about the routes you take every day. 
You can also choose a delivery method: You can either receive an email or SMS message, or you can use a phone to call the 511 phone line. Both will give you what you want to know about the routes you commonly navigate.
ADOT's 2020 statistics show a steep increase in AZ 511 users. 
In just one year, the AZ511.gov page views increased by nearly 400,000. About 2.2 million sessions were logged in 2020.
The number of AZ 511 app users also soared, showing a 26% increase in downloads between 2019 and 2020. 
There was also an 8% jump in 511 phone calls. 
When it comes to serious emergencies, such as the winter storm in March 2020, the numbers skyrocketed. During the storm, a great many of you turned to ADOT's modernized AZ 511 system. Here are some key stats: 
AZ 511 phone calls rose 440% in 24 hours.
New AZ511.gov users spiked from 2,089 on March 17 to 8,272 on March 19.
AZ 511 app usage rose 42%.
The award-winning AZ 511 system is a collaborative effort among ADOT Communications and Public Involvement, Transportation Systems Management and Operations Division, Infrastructure Delivery and Operations Division and the Information Technology Group. ADOT also works with many other state, regional and city partners on the system.