AZ MVD Now a real-world solution for current MVD needs
AZ MVD Now a real-world solution for current MVD needs
By Doug Nick / ADOT Communications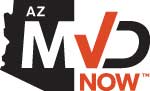 Did you know that MVD employees live in the real world? Believe it or not, it's true. We have to register our vehicles, renew our license, take care of title work and all those other things you can get done at MVD.
We know the pros and cons of an MVD visit, and we'd like to think (because data show it) that over the past few years, the customer experience has gotten a lot more efficient and quicker.
Obviously, for the time being things are a bit challenging. And that's why we've had to make some changes on the fly, so to speak. Because of our new favorite term, "social distancing," we're limiting MVD office visits to only those essential services that have to be done in an office, and everything is by appointment. The number of services that require you to come by an office is actually pretty small. Of those, two biggies, renewing a license or getting an AZ Travel ID, can actually wait a while.
Getting an AZ Travel ID matters, but it can wait a bit. That's because the federal government has extended the deadline from October of this year to Oct. 1, 2021. That extra time means that you should put it off until we're past this public health situation. Also, for anyone whose driver license is set to expire between March 1 and Sept. 1, it's automatically been extended by six months. It's already a part of your motor vehicle record, but if you really want a physical license with the new date you can order one online at ServiceArizona.com.
That brings us to our call to action for all of you. Since very few services really need to be done at an office, please try ServiceArizona.com first. Once you're there, you'll see an application called AZ MVD Now. This is a secure, personal account that every current MVD customer already has. All you need to do is activate it. Right now, it provides basic title services, a chance to look at your vehicle registration history, take the learner's permit test online and a few other things. In about a month, a lot more will become available at AZ MVD Now.
We've developed a short video explaining AZ MVD Now. It really would be worth your time to take a look and get a better idea of how MVD is working tirelessly to get Arizona out of line and safely one the road. Expanding our online presence is a huge part of how we're doing that.