Bad weather day from 1917 reminds us to be prepared
Bad weather day from 1917 reminds us to be prepared
By David Rookhuyzen / ADOT Communications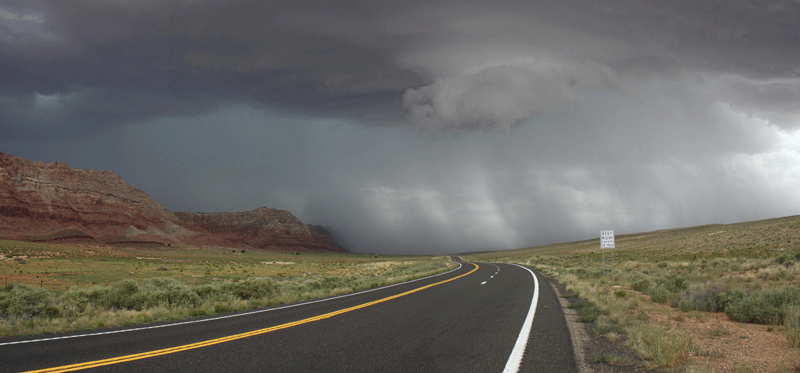 This year's monsoon hasn't hit with anything too bad, at least so far, but it's always helpful to be reminded of how hazardous extreme weather can be.

According to The Associated Press, on this date in 1917 a 5-mile stretch of the Ajo Highway was reported washed out and the southern Arizona communities of Sasco and Silverbell were cut off as roads and bridges were destroyed. Also on that day, hail fell 6 inches deep in Flagstaff.

Whew – that's a bad weather day!

Now with the caveat that today's state highways are paved and built to stand up to savage weather, this bit of history shows that sometimes Mother Nature will pull out all the stops, including while you are driving.

That's why we are constantly reminding people to check the weather along their routes before hitting the road. If you encounter weather while driving, remember some common-sense safety tips:
Expect the unexpected. Have extra supplies, including a fully charged cellphone, drinking water and an emergency kit in case you experience an extended highway closure.
Before you drive, inspect your windshield wipers, and replace them if necessary.
When faced with low- or zero-visibility conditions, pull your vehicle off the road as far to the right as possible. Turn off your lights, set the parking brake and take your foot off the brake pedal. These steps reduce the chances that other drivers mistake your vehicle as the one to follow. As we always say, Pull Aside, Stay Alive!
Don't risk crossing a flooded wash, even if it doesn't look deep. Water is a powerful force that should not be underestimated. Even a few inches of running water poses a serious risk.
Turn on your headlights while driving in heavy rain or snow.
Reduce your speed and maintain a safe distance between your vehicle and the one in front of you.
Our website has these and a plethora of other tips for any driving conditions you might encounter including snow and ice, rainstorms and dust storms. 

No one knows when we'll have another day like in 1917, but the least you can do is make sure you are prepared, just in case.