'Big Foot' former director left big transportation legacy
'Big Foot' former director left big transportation legacy
By Laurie Merrill / ADOT Communications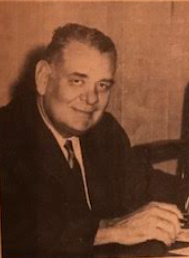 He was a hearty man with a winning style and warm smile.
He was beloved by his employees, who called him "Big Foot" for his height and size: 6 foot, 4 inches tall and some 240 pounds.
But history will most likely recall the late Justin Herman, Arizona Highway Department director from 1956 to 1973, as the energetic leader who shepherded in the modern state freeway system, including the Black Canyon (Interstate 17), Superstition (US 60) and Maricopa (Interstate 10) freeways.
"During his tenure of office, some of the most important and mammoth advances and improvements in the history of Arizona road building, dating back to the date of Statehood in 1912, have been initiated and completed," the Arizona Public Employee publication said of Herman in March 1970.
Here are some of those mammoth advances, according to our 2012 Arizona Transportation History report: 
"Work began on the Maricopa Freeway in 1958, and soon contracts for both new freeways were being issued on a regular basis. By 1961, more than six miles of the Black Canyon were open to traffic, from McDowell Road to Northern Avenue, and work was proceeding at a rapid pace. In late 1964, the combined Black Canyon–Maricopa freeway was dedicated from 16th Street to just north of the Carefree Highway. At a cost of $33.5 million for 30 miles of roadway – more than a $1 million per mile – it was by far the most expensive highway built in Arizona up to that time."
You can see Herman, second from the left in the photo above, at that 1964 dedication of the combined Maricopa and Black Canyon highways.
Herman was the first and only director of the Highway Department, as before him the chief transportation official had been the state engineer. He served 17 years under five governors, being appointed three times to five-year terms before his retirement in 1973. By then, he had notched 42 years of public service, including 32 with the department.
The next year, 1974, the department he formerly headed became the Arizona Department of Transportation.
Larger than life character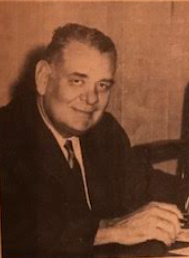 Herman's 93-year-old son – also named Justin Herman – described his dad in a recent interview as a larger-than-life character with contagious enthusiasm and a drive to get things done.
"He was an all-around great person, one of those people whom others liked immensely, a good-natured and highly intelligent man," he recalled. "His big mission in life was to help people in any way he could."
ADOT's Spotlight bulletin echoed this sentiment in an article about Herman receiving a plaque for his service.
"Herman's style of 'personal diplomacy,' marked by a friendly smile, a ready, powerful handshake, and a kind word to all, made him one of the most widely known state officials in Arizona," it said.
To get a sense of how widely known Herman was, his son shared about the time he was renewing his license at the Arizona Department of Motor Vehicles, when the woman behind the counter recognized Herman's name.
"I want to tell you a story," she told him.
She was only a temporary employee at ADOT, she said, when her husband died of cancer. Around the same time, she was notified that her position would end and she would be let go after that Christmas. She told her supervisor how desperately she needed a job, and he urged her to see the director.
When she went to meet with Herman, he didn't even know her name. He would meet with anyone regardless of position. She told him her situation, and the next day she was offered a job as a full-time employee.
"He was beloved," his son said.
Just another cowboy
There was also the time when Herman met with the producer of a movie being shot in Sedona, who was requesting another road for equipment and vehicles.
That producer was John Wayne. And the road, which ADOT built, led to a cottage industry of westerns getting filmed in Sedona, his son said.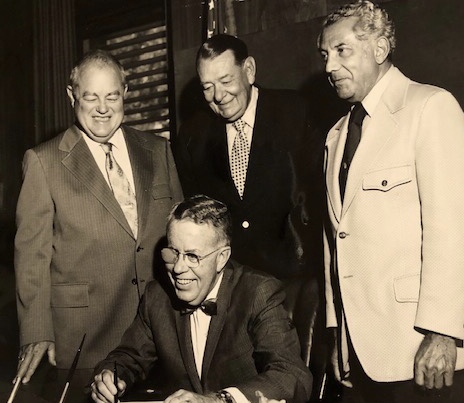 What did Herman think of John Wayne?
"He's just another cowboy," he told his son.
Another time in 1950, Herman, his wife and son were on a trip up north when the car broke down.  Herman had to wait hours for another car to come by and give him a lift to a telephone.
He telephoned his employees for help, since at the time he was Superintendent of the Shops. His colleagues were so amused by the irony that they put up a sign at the breakdown location called "Herman's Crossing." The site was even on the map for a while, the younger Herman said.
Years later, the younger Herman's own son, Dan Herman, retrieved the sign – which had become riddled with bullet holes – and put it on his college dorm-room door.
Dan Herman has heard plenty of tales like these about his grandfather, but he was also was privy to his domestic side.
"He puttered in the yard, read Zane Grey novels and cooked sausage and eggs for us on Sundays," he said.  
If this seems like a long time ago, it was. But the past came to the surface recently when Herman's granddaughter, Luciana Herman, spotted a photo of him on ADOT's Twitter feed. The photo at the top of this post, in fact. 
"Such a proud day for my grandfather back in 1964," Luciana tweeted. "I-10 took up a lot of space in his head in those years as director."
The second photo on the right shows Gov. Jack Williams signing a proclamation about "Highway Week" in Arizona. while looking on behind him, from left, are William Price, state highway engineer; Herman, and Lew Davis, chairman of the Arizona State Highway Commission. 
Perhaps Herman's most lasting legacy will be his passion for his job and the people of the state.
His son said: "He just loved his job and the people so much!"