A bridge toward completing our SR 347 upgrade in Maricopa
A bridge toward completing our SR 347 upgrade in Maricopa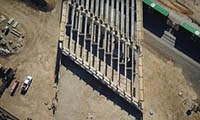 By Tom Herrmann / ADOT Communications
At the groundbreaking for a State Route 347 overpass in the heart of Maricopa, officials spoke with pride about the work done for more than a decade to make this $55 million improvement a reality.
For most of the past year, the site at SR 347 and Maricopa-Casa Grande Highway has looked pretty much as you would expect: like a job site. But late next week it will begin to look much more like the overpass that will open up the community by ending the regular waits for trains to pass.
Thursday night, March 28, Arizona Department of Transportation crews are scheduled begin pouring the concrete deck for the overpass. About 130 cement trucks will bring in about 1,300 cubic yards of concrete to form the deck of the overpass, which will be 318 feet long, 130 feet wide and carry six lanes of traffic.
The deck pour is a good opportunity to take stock of all the things crews have achieved in Maricopa since work began in spring 2018. We built an entire new road, Plainview Street, near the Maricopa Unified School District offices. Towering piers that will hold the overpass, about 20 of them, are in place, along with earth and decorative mechanically stabilized earth panels that will form the walls at each end of the overpass. We've cleared ground for the new SR 347 alignment and done hundreds of smaller tasks, such as moving utility lines, that are important but unseen parts of a big job like this.
Plenty of work remains. Nothing is larger than creating the foundation and laying pavement for the new road surface, but there are dozens of tasks still to be completed before the road is ready for traffic near the end this year.
Take a look. We think you'll be happy with how far we've come.