Building a Freeway: Moving a Mountain
Building a Freeway: Moving a Mountain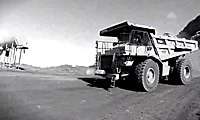 Ever wonder what it takes to move one million cubic yards of rock and dirt?
Turns out you need plenty of heavy-duty equipment, a fleet of enormous trucks and a lot of explosives (detonated by trained professionals, of course).
Oh yeah, you also need some time...
Those big trucks you see in the video above have been working since the summer on the landslide-damaged section of US 89, about 25 miles south of Page. By April 2015, ADOT contractors (and their trucks) will have moved the million cubic yards of material from above US 89 to build a stabilizing buttress below.
You can check out our previous blog post to learn more about that buttress, along with additional repair details. The landslide occurred back in February 2013. Since that time, ADOT conducted a major geotechnical investigation and worked diligently to restore mobility to the area by paving Navajo Route 20/US 89T, a 44-mile route that is serving as a detour for motorists heading to and from Page and the Lake Powell area.