Busy snowplow drivers kept roads open during recent storm
Busy snowplow drivers kept roads open during recent storm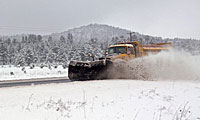 When Arizona's latest winter storm hit Sunday evening, ADOT crews went into high gear. Snowplow operators across northern Arizona and other areas where snow fell worked into the night and on through to Monday evening before the storm let up. Their efforts helped keep highways open and traffic flowing.
In ADOT's North-Central District, based in Flagstaff, Maintenance Engineer Kurtis Harris says a combination of equipment, people, training and advanced planning make for a successful response to a winter storm. And that doesn't include just the 100-plus snowplow operators on call when the storm hit.
Three motorist-assist groups were stationed on I-17 and parts of I-40 to respond to any drivers in need of help. These crews travel in four-wheel drive vehicles equipped with salt, cinder, shovels and other equipment to help motorists and quickly radio requests for DPS or tow trucks.
"They look for stranded motorists or those who have slid off the road," Harris says. "Getting stuck vehicles off the road or moving again goes a long way in preventing road closures."
The snowstorm also gave the North-Central District a chance to try out ADOT's brand new TowPlow.
Never heard of a TowPlow? It's a steerable trailer with a 26-foot blade that's attached to the back of a regular snowplow truck. The combination, able to plow a 24-foot-wide path, lets ADOT clear more lanes in less time using less fuel. ADOT's TowPlow joins a fleet of 200 traditional snowplows and is assigned to 20 miles of I-40 between Williams and Bellemont west of Flagstaff.
Harris also notes that during storm events, road-closure teams stand by, ready with cones and equipment to quickly and safely set up closures and detours when necessary.
During a winter storm, much of the action is out on the roads, but there's also a ton of work and coordination happening behind the scenes.
"All of us have a responsibility for keeping the roads open and safe," Harris says.
That of course extends to drivers, too.
For snow safety tips, visit azdot.gov/KnowSnow. You can also revisit our previous posts for more information on how ADOT prepares for the winter storm season (this video in particular is a good one to watch, if you want a behind the scenes look at how snowplow drivers train).