Check it out: Wildlife underpass installation
Check it out: Wildlife underpass installation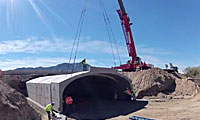 We've got a fascinating video to share with you today that shows the installation of a wildlife underpass on SR 86.
This particular underpass consists of 15 total pre-cast arches, each weighing in at about 22 tons (in case you're wondering why you don't see each of those 15 arches, the time-lapse video shows the installation of just one side of the underpass).
The precast arches were dropped into place, but not until quite a bit of work beforehand...
The underpass installation, which was also part of a widening project along SR 86, took place after crews constructed traffic detour, completed excavation and poured the footers and foundation.
If this video grabs your interest, you'll want to stay tuned. Next week, we have a more in-depth video and blog post coming your way about wildlife crossings.