Construction under way on new Cordes Junction interchange
Construction under way on new Cordes Junction interchange
It's the one that sits right between Flagstaff and Phoenix and serves about 13,000 vehicles a day (that's in addition to the more than 27,000 vehicles that travel daily on I-17 at the junction of SR 69). It also provides access to Prescott, Arcosanti and surrounding communities, along with gas stations, restaurants and other services for travelers.
Believe it or not, the busy interchange was built nearly 50 years ago – back when traffic volumes were nowhere near what they are today.
It's time for an update!
A project is now under way that's going to result in a new, modern interchange designed to handle the area's growing needs. Work started in August and by the time construction is finished (in about two years) some of the new features will include …
New bridges on SR 69
The removal of the outdated on- and off-ramps
A new I-17 interchange constructed north of the existing interchange
Two new bridges and ramps built over I-17 to connect with SR 69
The construction of a new Arcosanti Road along with the realignment of Copper Star Road and Stagecoach Trail.
The current intersection design forces local and through traffic to mix, which causes congestion and safety concerns. The brand new interchange will be able to separate local and highway traffic, leading to improved traffic flow and safety.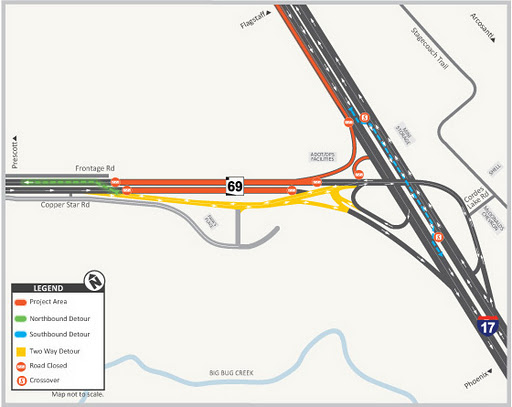 Recent traffic shift
Crews are now working to build the bridge structures over I-17 and just last week a traffic "shift" was put into place that will allow work to continue over the highway.
Overnight on Dec. 29 crews temporarily moved southbound I-17 traffic onto the northbound side of I-17.
The detour will be in place until the bridges are complete. But don't worry … I-17 still has two lanes in each direction within the work zone and the lanes are separated by temporary barrier walls. Drivers also should be aware the southbound I-17 speed limit is reduced to 55 mph. Temporary construction detours also are in place along SR 69 near I-17 (see map).
Work is being completed in four phases (right now, we're in phase two). Each phase has been designed to minimize the impact to the local community and travelers while maximizing cost-effective procedures.
For more details on the interchange and information on what future construction phases entail, stay tuned … we'll keep you updated as the project progresses!