Continuous improvement: Safety training program benefits both sides of the border
Continuous improvement: Safety training program benefits both sides of the border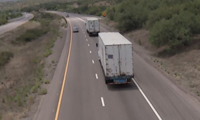 By Tom Herrmann / ADOT Communications
On Aug. 1, 20 truck drivers who carry products and produce from Mexican into the United States sat in a room San Luis Río Colorado, Mexico, to learn about ADOT safety inspections required for trucks entering Arizona from Mexico.
Just six weeks after that, ADOT's Border Liaison Unit almost can't schedule classes fast enough for all of the drivers in Mexico who want to learn more about what happens when inspectors from ADOT's Enforcement and Compliance Division take a close look at their trucks.
ADOT's International Border Inspection Qualification training program grows from the Arizona Management System championed by Governor Doug Ducey. Here's what this innovative program does:
It takes training into Mexico – the first time any state department of transportation has done that – in order to reach as many drivers as possible.
It removes the mystery from the inspection process. Drivers and mechanics know what is expected during safety inspections, and they can reduce delays by having their trucks ready for those inspections before they approach the border.
It speeds up the inspection process for qualifying drivers.
It takes advantage of technology by allowing drivers to use a smartphone application, WhatsApp, to communicate with inspectors and make needed repairs.
That's what it does for drivers. The benefits are just as important for Arizona.
Improving the inspection process has meant more traffic coming to Arizona ports of entry. That strengthens the state's economy and supports jobs, many of them in border communities. The port at San Luis already has seen an increase in commercial traffic.
It also means safer roads. Qualifying drivers have a better understanding of safety requirements. And by focusing on trucks that may have a higher risk for safety concerns, inspectors have found more violations despite conducting fewer 37-point Level 1 inspections.
Another 40 drivers will meet with inspectors in Nogales, Sonora, next week. Future classes are scheduled deeper into Mexico, in Hermosillo, Sonora, and Culiacán, Sinaloa. By Thanksgiving, inspectors will have held eight two-day sessions – twice the original plan – and may qualify as many as 250 drivers.
That's long way from those seemingly humble beginnings just six weeks ago.