The Deck Park Tunnel turns 25 today
The Deck Park Tunnel turns 25 today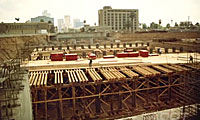 Do you know what you were doing 25 years ago today?
Here at ADOT, we remember exactly what happened on Aug. 10, 1990 – the grand opening of the I-10 Deck Park Tunnel.
If you lived in the Phoenix area at that time, maybe you joined us for the ceremony and ribbon cutting that marked the occasion?
It was a big day. Arizona Governor Rose Mofford was there, along with senators, government officials and several hundred others.
Actually, it was more than just one big day. Before the Aug. 10 ceremony, there was a three-day "open house" that attracted more than 100,000 people to the tunnel. During that time, the public got to walk or ride through the unopened tunnel (we hear there were even fireworks!).
Later this week, we'll share some photos from the festivities along with some earlier pictures of the tunnel's construction. Today, as we mark the tunnel's 25th birthday, we hope you'll enjoy the video above…
We'd also love to hear if you have any memories from the tunnel's early days. Did you attend the open house or grand opening? Perhaps you were in one of the first cars to drive through the tunnel? Maybe you remember what it was like to drive on I-10 before the tunnel was complete? Let us know on Facebook, Twitter or right here in the blog comments!