Demolishing the Pantano Union Pacific Railroad Bridge
Demolishing the Pantano Union Pacific Railroad Bridge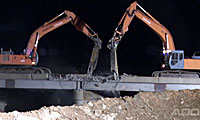 We posted a clip on YouTube last week that shows crews demolishing the old Pantano Union Pacific Railroad Bridge. Because it's a time-lapse video, you can watch all the work being completed in under a minute…
In reality, the effort took a little more time. In fact, work began long before crews and equipment even got to the site. As you can see in the video above, planning started several months in advance of the I-10 closure and bridge demolition.
In addition to holding traffic safety management meetings, ADOT checked in with communities in the area to make everyone aware of the plans. ADOT also met with businesses, alerted the media and activated message signs in preparation of the big event. Communication and coordination were vital to this project's success.
After all the work (both before and during the bridge demo), lanes on I-10 were opened to traffic as scheduled.