Detours offer access to northern Arizona communities, businesses near US 89 closure
Detours offer access to northern Arizona communities, businesses near US 89 closure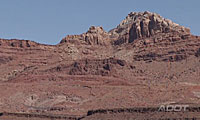 Even though there's a stretch of US 89 that's not open, the businesses and communities surrounding the closure most definitely are.
That's the message that area residents, business owners and ADOT are hoping to get out…
"With the busy tourism season coming up, there are a lot of people concerned in Page and the Lake Powell area with how this closure is going to impact their businesses," says ADOT Public Information Officer Dustin Krugel in the video above. "That's why we're doing everything we can to let the public know that Page and the Lake Powell area are open."
Motorists should know that they can still get to all the popular tourism destinations in the northern part of our state.
Traci Varner, general manager at the Lake Powell Days Inn, says the detour is actually really a pretty drive.
"It's just a little out of the way, but it's a beautiful ride," she says.
It's also important to note that US 89A is not affected by the closure. So if you're heading to the Grand Canyon's north rim (when it opens up for the season in mid-May), Fredonia, Lees Ferry or Marble Canyon, the detour won't impact your drive.
So, to sum up … Page and the Lake Powell areas are open for business. And, judging from the video above, they're all ready for the beautiful season ahead!