From the Director: ADOT keeps economy moving in 2017
From the Director: ADOT keeps economy moving in 2017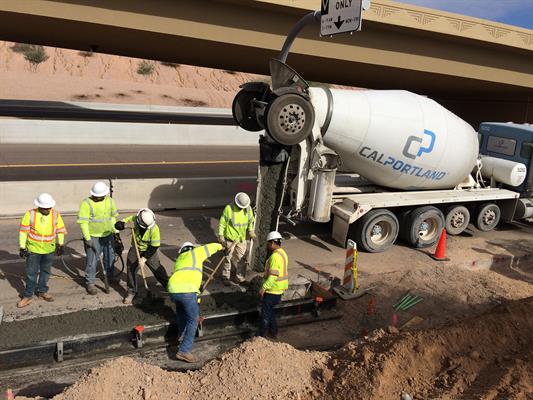 By John Halikowski / ADOT Director
It shouldn't be a surprise to anyone that transportation plays a key role in a state's economy. A good transportation system ensures that goods and services get to their proper destination. A good transportation system ensures people get to where they want to go either for business or pleasure. At the Arizona Department of Transportation, we continue to make improvements in our state transportation system that ensure trade flows between our borders and people can travel to their favorite destinations. Here's what we have planned this year that keeps Arizona's economy moving:
The biggest single transportation project in the state's history is the Loop 202 South Mountain Freeway. The $1.9 billion project begins in earnest in the first half of 2017 with the building of the foundations for 40 bridges planned, widening eastbound lanes on Pecos Road, and access roads near Interstate 10 in west Phoenix. The 22-mile project is a direct link between the East Valley and the West Valley, and it brings great economic development opportunities.
Pavement preservation is a cornerstone in keeping our transportation system functioning at its best. We have an 11-mile stretch of I-17 scheduled for resurfacing in the spring of 2017. Between 19th and Peoria avenues, our crews will add a new layer of smooth, durable rubberized asphalt along the Black Canyon Freeway.
A widening project in the Marana/Tucson area will improve travel along Ina Road and Interstate 10. The $120 million project features a wider bridge with two lanes in each direction over I-10 and the railroad tracks, making the area more efficient and safer to travel.
Dust storms are very prevalent in Arizona especially during our summer monsoon season. ADOT was awarded a $54 million federal grant in 2016. A portion of the grant funds are being used to install a dust detection and warning system along I-10 between Eloy and Picacho Peak later this year. When fully implemented, the system will trigger safety measures including reduced speed limits and electronic message boards to warn drivers of visibility concerns. We will continue our efforts to warn drivers not to drive through a dust storm.
Our interstates serve as key commerce corridors in Arizona. Roadway improvements, whether they are additional lanes, paving or a dust detection system, ensure our transportation system is working efficiently and effectively. At ADOT, we are committed to making sure our state's economy continues to move at the speed of business.
---

This post originally appeared on ADOT Director John Halikowski's
LinkedIn page. He has led the agency since 2009.