From the Director: ADOT offers latest South Mountain Freeway virtual tour online
From the Director: ADOT offers latest South Mountain Freeway virtual tour online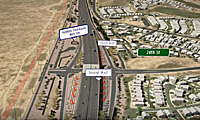 By John Halikowski / ADOT Director
Grab some popcorn, sit back and watch the latest virtual tour of the South Mountain Freeway, the largest single freeway project in state history.
The six-and-a-half minute video updates the 2013 version that was completed to coincide with the publication of the Draft Environmental Impact Statement by the Arizona Department of Transportation and the Federal Highway Administration. I think you will be impressed by the sheer volume of construction planned along with the aesthetic features being implemented. Here is just a snapshot of what the video shows in key design modifications:
Aesthetic and landscaping treatments reflecting neighboring communities.
Direct HOV lane access near 59th Avenue from the South Mountain Freeway to and from downtown Phoenix.
Six-mile-long shared-used path in Ahwatukee, located south of the freeway between 40th Street and 17th Avenue.
Reduced rights of way required due to alignment changes.
Interchange reconfigurations including a diverging diamond interchange at Desert Foothills Parkway and 17th Avenue, a first such interchange in Arizona.
Sound walls to mitigate freeway noise.
Pedestrian bridge north of Broadway Road to connect the Rio del Rey neighborhoods.
The video can be accessed at SouthMountainFreeway.com. You can also sign up for updates on the project at the same webpage.
The 22-mile-long corridor is expected to be completed by 2019, and will provide a long-planned direct link between the East Valley and West Valley, plus a much-needed alternative to Interstate 10 through downtown Phoenix.
---
This post originally appeared on ADOT Director John Halikowski's
LinkedIn page. He has led the agency since 2009.