From the Director: It's your turn to vote on safety messages!
From the Director: It's your turn to vote on safety messages!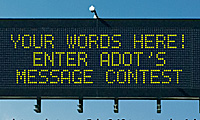 By John Halikowski / ADOT Director
We don't need an Academy or selfie-taking accountants to tell us who has the best safety message. We want YOU to tell us who has the best entry in ADOT's safety message contest.
With more than 7,000 submissions, there are now 20 finalists that have advanced to the next round of the contest. From speeding and impairment, texting and seat belt use, to proper use of the HOV lane and general driving safety tips, you get to decide which two messages will appear on signs above Arizona's highways.
With so many great submissions, ADOT expanded the number of finalists from 15 to 20 and increased the winners from one to two. The winning messages will appear on overhead signs one day each in April.
I commend the creativity displayed from those Arizonans who submitted entries in our safety message contest. We want our residents to be engaged in the conversations about transportation safety. It takes all of us to be good drivers, sharing the road and obeying traffic laws, so we can reduce fatal and serious-injury vehicle crashes.
Do vote by March 15 and I promise you won't have to worry about wrong envelopes being opened with the winning message.
---

This post originally appeared on ADOT Director John Halikowski's
LinkedIn page. He has led the agency since 2009.