From the Director: Man's best friend safety message wins ADOT contest
From the Director: Man's best friend safety message wins ADOT contest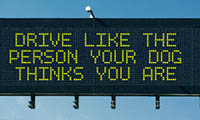 By John Halikowski / ADOT Director
We've revealed the winners in ADOT's third annual Safety Message Contest. Three years we've been running this engaging contest.
That's 21 dog years.
What?
I make that connection because one of the winning messages relates to man's best friend. Submitted by Mitzie Warner of Chandler, the safety message "Drive like the person your dog thinks you are," received about a third of the 5,000 votes cast, burying the other 14 finalists like a favorite bone.
Though I'm a cat owner – lovable Mr. Squeakers has been part of our family for 11 years – I understand the desire to live up to being the purr-fect people our pets believe us to be. Making safe and smart decisions behind the wheel, like choosing not to drive recklessly, distracted or impaired, is a great start.
The other winning message, submitted by David Posey of San Tan Valley, was a clever play on words: "Drink and drive? Meet police and see new bars." Both winning messages will be displayed on overhead messages this weekend statewide.
Drive safely on the roads this week. Make your dog proud.
---

   This post originally appeared on ADOT Director John Halikowski's 
   LinkedIn page. He has led the agency since 2009.