From the Director: More creative than ADOT? It's your turn!
From the Director: More creative than ADOT? It's your turn!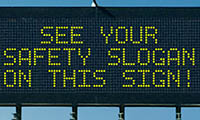 By John Halikowski / ADOT Director
Calling all of you creative thinkers! Have you ever thought of a safety message that could appear on a digital message board over one of Arizona's highways? Here's your chance to be creative while thinking of important safety messages.
The Arizona Department of Transportation has kicked off our Safety Message Contest. Here is how it works. Safety messages can be submitted at azdot.gov/signcontest until Feb. 19. ADOT will review submissions and select 15 messages to advance to the next round. In March, we'll post the finalists on our website and let the public decide the winner. The winning message will appear on the message signs for two days in April.
There are certain guidelines that must be followed – only 3 lines and 18 characters per line allowed (including spaces); no phone numbers, hashtags and web addresses permitted; and no emoji.
At ADOT, we have been placing unconventional safety messages on our overhead signs for more than a year. By tapping into the creativity of all Arizonans, we're hoping to spark even more conversations about safe driving.
Don't delay; enter as many messages as you like. It's your turn to be creative in the world of transportation safety.
---

This post originally appeared on ADOT Director John Halikowski's
LinkedIn page. He has led the agency since 2009.