From the Director: Progress Continues for South Mountain Freeway
From the Director: Progress Continues for South Mountain Freeway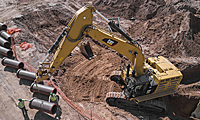 By John Halikowski / ADOT Director
With more than 35 percent of the South Mountain Freeway construction project complete, the state's largest single highway project ever is on schedule to open by late 2019. I commend our ADOT staff and Connect 202 Partners for keeping this large construction project on schedule.
It is hard to imagine the amount of materials needed to build this project. To date, crews have installed 8 miles of drainage pipe, moved 3.6 million cubic yards of dirt and used 2,900 tons of rebar manufactured from recycled steel.
Motorists in the West Valley are witnessing the building of the 1-10 interchange at 59th Avenue along with ramps and two direct HOV lane connections. New access roads parallel to I-10 between 51st and 67th avenues are taking shape. Construction of the 40 bridges and one pedestrian bridge continues this year. Construction crews have painted one of the interchanges along the Pecos segment that uses design elements from Frank Lloyd Wright.
The South Mountain Freeway is a vital economic development project for the region. As I have said before, this freeway connects people with employment, entertainment and educational centers.
To stay up-to-date on construction and traffic alerts, please visit www.azdot.gov/SouthMountainFreeway.
---

This post originally appeared on ADOT Director John Halikowski's
LinkedIn page. He has led the agency since 2009.