From the Director: Thank you trash slayers!
From the Director: Thank you trash slayers!
By John Halikowski / ADOT Director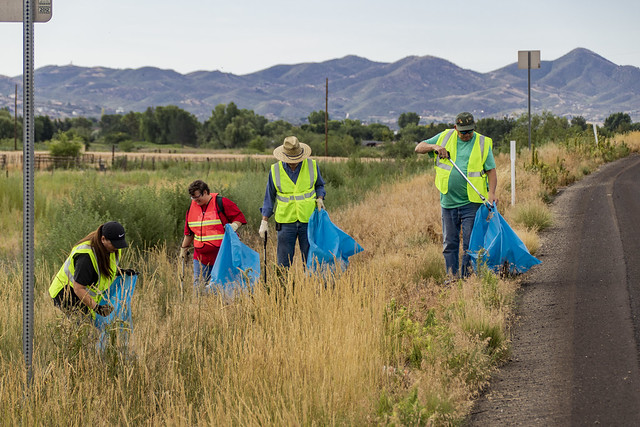 With National CleanUp Day approaching on Sept. 21, I want to express my thanks to our volunteers and sponsors who consistently pick up trash along our state highways. These volunteers have cleaned up 1,672 miles of Arizona highways. You are indeed making a difference in keeping our roads litter-free.
National Clean Up Day is a day set aside for individuals and organizations to work together in reducing litter in their communities.
According to the statistics we keep for our Adopt A Highway program, we have permitted 953 groups and 9,868 individual volunteers who have been responsible for collecting 13,828 bags of trash. We also have calculated the number of volunteer labor hours which translates to $500,000 in volunteer labor value savings. Taxpayers have certainly benefited from our Adopt A Highway program.
Our sponsor program is designed to have civic-minded sponsors work with businesses that contract with maintenance providers to cleanup roadside litter throughout the state. The majority of our sponsors are located in the Central District which is the Phoenix Metropolitan area. For 2018, the sponsors collected 89,896 bags of trash; if weighed, the total weight would be 1,230,676 pounds of trash.  We saw an increase of 9,454 bags of trash and 129,425 pounds of trash from 2017 in the area.
Not all highway segments have been adopted. We have an interactive map showing which Adopt A Highway segments are waiting for volunteers. Visit azdot.gov/AdoptaHighway to learn more about our program and become a volunteer.
I encourage everyone to do their part in keeping Arizona roads litter free.  Please think twice before you decide to throw away a plastic soda bottle, paper sack, or cigarette butt out of a car window. Besides making our roads look dirty, these items can clog our drainage systems and create problems during rain storms.
Thank you trash slayers! I appreciate the work you do in fulfilling our motto:  Arizona, Keep It Grand!