Don't dally after a minor crash. It's the law.
Don't dally after a minor crash. It's the law.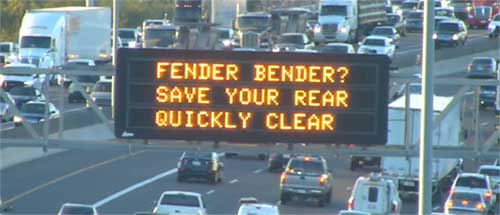 By Laurie Merrill / ADOT Communications
Nearly everyone has driven past a minor crash on a freeway. A handful of you, no doubt, have been involved in such a crash.
So what does one do if, heaven forbid, it happens to you? More to the point: How do you stay safe?
If you are in the fender bender, the most crucial thing to remember is simple: Move over. Get out of the travel lanes. You don't have to preserve the scene of non-injury crash.
The second thing to remember: Don't step into traffic to photograph your vehicle. Once your car is safely on the shoulder, you should be too. You and the other driver can exchange pertinent information while waiting safely, out of the way of traffic, for law enforcement to arrive.
This is called Quick Clearance, a strategy that keeps motorists safe and traffic moving. Quick Clearance is one of the practices that the Arizona Department of Transportation, the Arizona Department of Public Safety and other traffic-safety stakeholders are promoting during National Traffic Incident (TIM) Awareness Week.
In addition to providing TIM tips this week, motorists will also see related safety messages on overhead signs and on social media. You'll find examples above and below.
Quick Clearance is also a matter of state law. Drivers in minor crashes with operable vehicles are required to remove their vehicles from the roadway if it is safe to do so.
At the same time, motorists approaching a crash or a vehicle with flashing lights are required to move over one lane or slow down under Arizona's "Move Over" law.
It's all part of traffic safety, and it's an important message for motorists.