Entering our message contest? There's lots of competition already
Entering our message contest? There's lots of competition already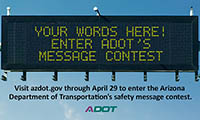 By Doug Pacey / ADOT Communications
You're outdoing yourself, Arizona.
Within 24 hours of launching our Safety Message Contest, we'd received more than 1,400 entries. After 48 hours the total number of submissions had climbed to 2,000.
We're thrilled to see so many taking an interest in encouraging drivers to make better decisions behind the wheel. One of our goals in posting quirky safety messages on overhead signs is to start conversations about safe driving and this contest does that, too.
Skimming through the entries, we saw personal stories and were reminded why it's important for all of us to make better choices while driving. Distracted drivers, speeders and people who don't use turn signals have been popular topics. And some referenced bands and singers that will perform concerts in Phoenix soon, the most recent Avenger's movie and Game of Thrones.
It's not too late to enter. Entries can be submitted through Monday, April, 29. After that, we'll whittle down the submissions to 15 finalists and let the public vote for their favorite.