First responders benefit from training opportunities along South Mountain Freeway path
First responders benefit from training opportunities along South Mountain Freeway path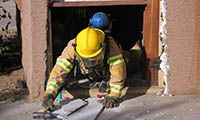 By Dustin Krugel / ADOT Communications
The Arizona Department of Transportation interacts every day with agencies including the Arizona Department of Public Safety, National Weather Service and local law enforcement and fire departments, whether it's responding to a crash incident, dealing with weather across the state or providing traffic control for a brush fire.
One of the more unique partnerships, as we shared this week, has involved collaborating with first responders to provide training opportunities on state-owned properties that will eventually be cleared to make room for the Loop 202 South Mountain Freeway.
Since summer 2015, personnel from more than a dozen agencies have benefited from training at properties that ADOT has acquired along the 22-mile-long freeway corridor since receiving federal approval to move forward with the project.
"ADOT historically been able to work with local agencies in law enforcement, fire, first responders, in providing buildings that we've acquired so they can be utilized for training," said Raul Torres, ADOT right of way manager, who along with participating first responders is shown in the video above.
This type of training isn't a first for ADOT. We offered similar opportunities prior construction on State Route 51 (Piestewa Freeway) and the Loop 202 Red Mountain Freeway.
Along the South Mountain Freeway's future path, the Phoenix Fire Department has trained probationary firefighters on cutting through roofs to provide ventilation during fires.
"To have an opportunity to train in a live-training scenario when there's not an actually emergency going on, it's a great thing for us and especially for our probationary officers," said Capt. Ardell Diaz with the Phoenix Fire Department.
One of the probationary firefighters featured in the video is Luke Siekmann, who we are happy to report is now a full-time firefighter with Phoenix. Siekmann said the training was invaluable.
"The more you do something, the more (training) you have, the more experience you'll have," he said. "So the more training Phoenix Fire does, the safer the city will be."