#FridayFive: Hollywood movie starts, nosy pooches and wrong-way detection
#FridayFive: Hollywood movie starts, nosy pooches and wrong-way detection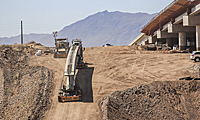 By David Woodfill / ADOT Communications
In this week's Friday Five blog post, transportation officials from other states visited Arizona to witness our strides in developing wrong-way detection technology.
We also stumped you with a new "Where in AZ??" brain teaser and showed some of the latest pictures of the Loop 202 South Mountain Freeway construction, which can be seen above.
Then Rubble the dog evaluated our work at one of those construction sites. (He approved.)
Finally, we time-traveled to 1978 when Hollywood royalty and high-flying aerobatics converged at the Phoenix Deer Valley Municipal Airport. You'll never guess the movie star who attended that show and included some of the footage in one of his old movies.
Don't forget to follow the hashtag #FridayFive on social media to see what others are sharing from their week.
---
1. Other states are looking to the Arizona Department of Transportation as they consider adopting wrong-way driver detection technology.
This week, we hosted law enforcement and transportation officials from California, Florida and Texas who wanted to learn more about our pilot test of wrong-way vehicle detection and warning system on Interstate 17 in Phoenix. The system is the first in the nation to use thermal detection cameras to identify vehicles that are traveling in the wrong direction.
---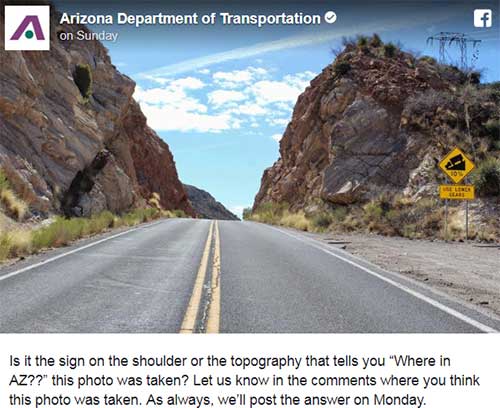 2. A road, a hill and a 10 percent gradient-warning sign were the only clues we gave you in this week's "Where in AZ??" challenge.
Dustin Powers was the first on Facebook to guess the correct location, which was State Route 177 a few miles south of Superior on the road to Ray, Kearny and Winkelman.
Congratulations Dustin! You have a photographic memory that would put Vegas' best card sharks to shame.
---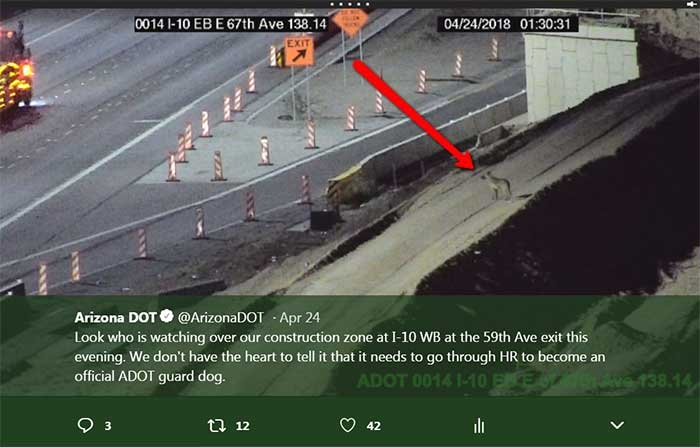 3. Rubble on the double! A cute member of the PAW Patrol oversaw some of our work on the Loop 202 South Mountain Freeway.
A quick-thinking member of ADOT's Traffic Operations Center got a picture of this little pooch showing a weird level of interest in the goings-on at the future L-202 and I-10 interchange near 59th Avenue and Interstate 10 in Phoenix.
Cute as he may be, he still has to apply at the state's official web site for job postings if he wants to be an ADOT employee. We suggest he try for the position of foreman.
---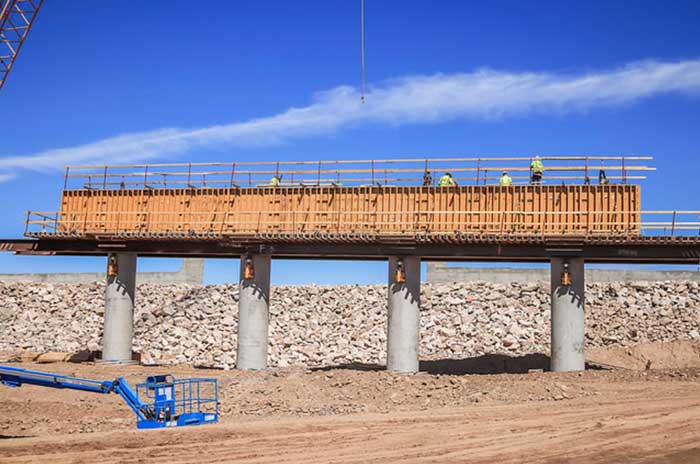 4. We revisited more construction sites for the South Mountain Freeway and got some impressive pictures, which we shared this week. They included the slideshow presentation featured above. Thumb through it to watch as crews set in place some extremely long girders to create two half-mile bridges that will span the Salt River.
If you don't get your fill, there's plenty more to explore on the South Mountain Freeway Flickr page.
---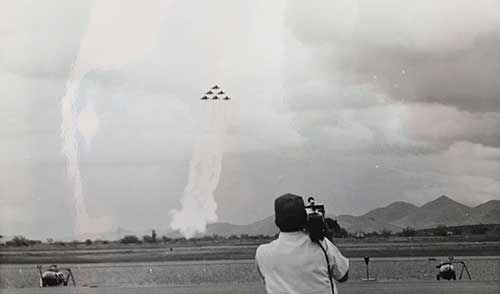 5. For Throwback Thursday, we remembered the 1978 Festival of Flight airshow at the Phoenix Deer Valley Municipal Airport.
One of the silver screen's biggest stars at the time visited the Valley and filmed scenes for a now-obscure 1980 movie. Another actor was so impressed by what he saw that he later earned his pilot's license.