Gilbert holds groundbreaking for L-202 Lindsay Road interchange
Gilbert holds groundbreaking for L-202 Lindsay Road interchange
By Doug Nintzel / ADOT Communications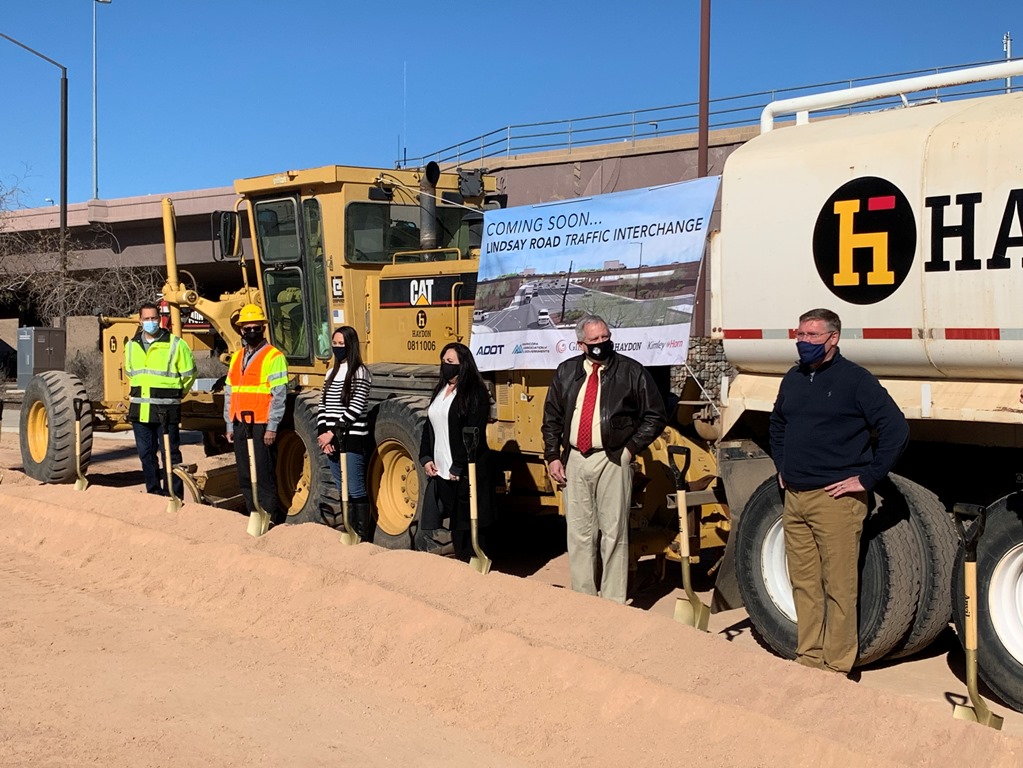 As a new year begins, so will a new freeway project in the southeast Valley. Work on the addition of a new Loop 202 Santan Freeway interchange at Lindsay Road, east of Gilbert Road, will start this month.
To mark the start of construction, the town of Gilbert hosted a groundbreaking ceremony in the area near where new on- and off-ramps will be added along the Santan Freeway at Lindsay Road. Gilbert's event team should be applauded for arranging and carrying out a socially distanced ceremony with precautions taken during the current health situation.
Officials from Gilbert, including Mayor Scott Anderson, spoke about the work of various agencies over time to make the project a reality as well as the benefits that a new interchange will provide for local drivers and the town's economic development opportunities.
ADOT's State Engineer Dallas Hammit also took part in the groundbreaking and focused his remarks on how this project is an example of partnering and cooperation between local, regional, state and federal agencies.
Over approximately the next year, ADOT will now manage a $21.7 million project to add the Lindsay Road interchange. Completion is anticipated in early 2022. Other improvements include the widening of the westbound Loop 202 off-ramp at Gilbert Road and eastbound off-ramp at Val Vista Drive and construction of a new westbound frontage road between Lindsay and Gilbert roads.
Gilbert will complete local street improvements in the area. Both ADOT and Gilbert will provide project updates, including traffic restriction reports, as the construction moves forward. Minimal restrictions are expected along Loop 202 during the course of the project since much of the work will take place away from the freeway's lanes. We urge drivers to use caution and to always watch for workers and equipment in freeway or local street work zones.