Happy third birthday to the ADOT Blog!
Happy third birthday to the ADOT Blog!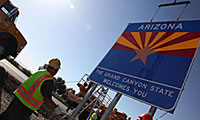 It's an exciting day for us here on the ADOT Blog.
Not only are we celebrating the blog's third birthday, today we're also marking our 500th blog post!
Time sure does fly. It seems like just yesterday we were welcoming readers to the brand new ADOT Blog – a space we promised would be used to help give people a better understanding of how this state's transportation system is planned, built and maintained.
As we look back to that very first post, we are struck by how different things were ... way back then.
OK, we know 2011 isn't ancient history and we realize that 36 months isn't much time compared with the 100-plus years of Arizona's transportation history, but if you join us today as we reminisce (isn't that what birthdays are all about?), we think you'll see what we mean.
For instance, when we started this blog, the 14 miles of Loop 303 between I-17 and Happy Valley Parkway hadn't opened yet. And, all the work and progress that's happening on Loop 303 north of I-10 wasn't even started when we launched the blog.
We can't leave out US 89. Back when the ADOT Blog started, the now landslide-damaged road was still operational and would be for another 22 months.
What other big transportation changes/accomplishments have occurred since the start of the ADOT Blog? Let's take a look back at some of our top project-related blog posts:
Of course, that's just a small fraction of the projects ADOT has worked on and completed over the past three years and it's just a small fraction of the project posts we've published.
But projects aren't all we've blogged about…
In order to better explain transportation and help give readers a better understanding of the state highway system, we have developed a few series that we're quite proud of, including Transportation Defined, From the ADOT Archives, Vehicles of ADOT and Science of Transportation.
There's more and we could keep looking back over the past three years and 500 posts, but we're ready to move ahead. So stay tuned – we have so many more updates, videos and articles all planned for the future. We're excited for the next 500 posts and can't wait to see what the roads look like three years from now.
Happy birthday to the ADOT Blog … thanks for reading!