Has a fire closed this highway? ADOT can tell you.
Has a fire closed this highway? ADOT can tell you.
By Laurie Merrill / ADOT Communications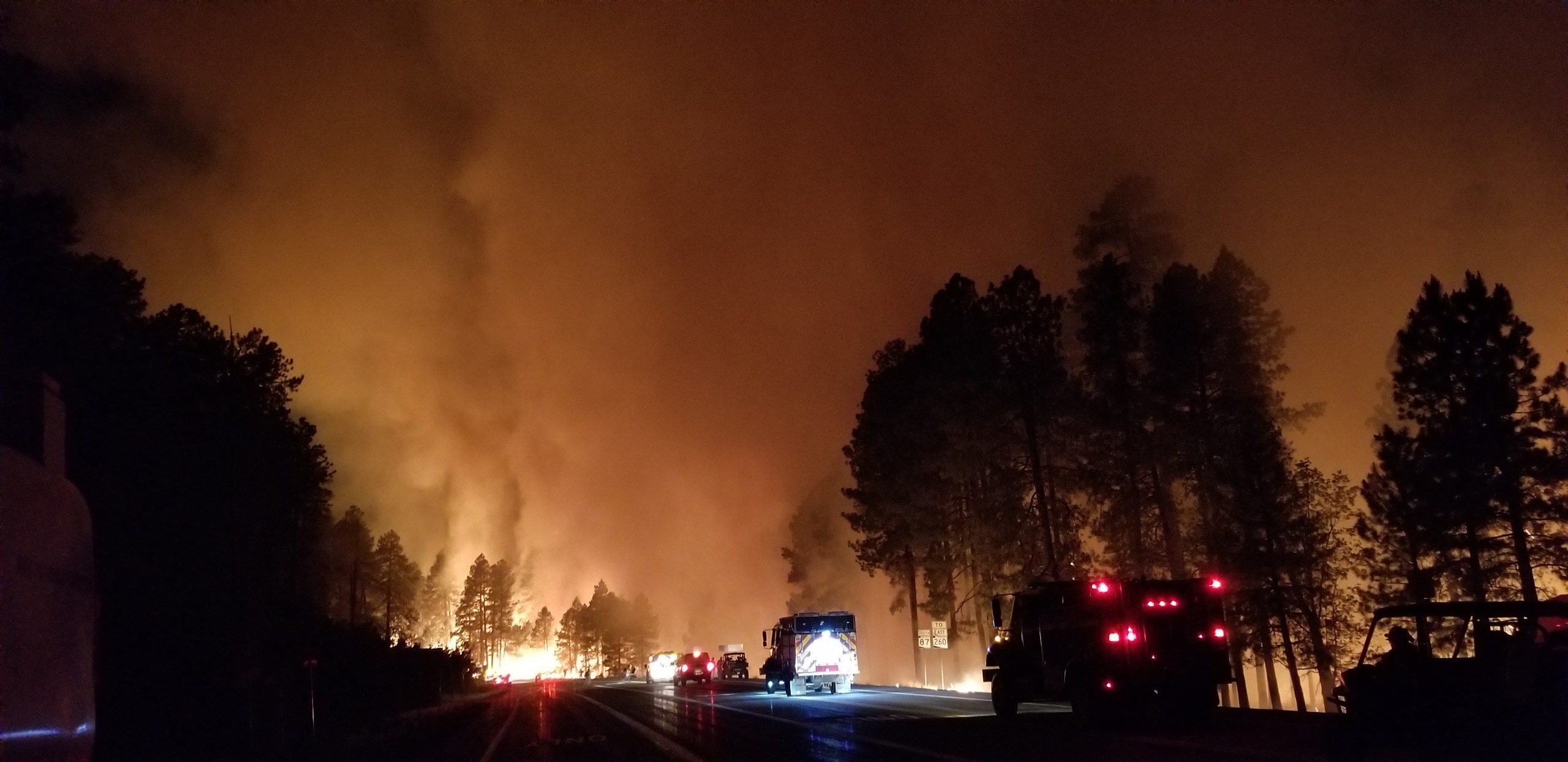 On June 4, two wildfires ignited about 60 miles east of Phoenix and forced the closure of highways in the Globe area.
News was happening quickly and additional highways were closed to allow firefighters to battle a blaze that has been as big as 165,000 acres. 
So, how were you, the motorist, supposed to know State Route 77, US 70, State Route 170 and parts of US 60 were closed because of the fire? What if, for example, you were already on your way to a destination in the now-inaccessible fire zone? 
Fortunately, the Arizona Department of Transportation offers you a number of free-of-charge options to inform you about highway conditions. 
1. ADOT Alerts app and @ArizonaDOT on Twitter: 
If you download the ADOT Alerts app, you will receive emergency alerts on your cellphone about closures such as those caused by the Telegraph Fire. 
Do you follow us on Twitter @ArizonaDOT? Twitter provides immediate information about significant condition shifts. You can even ask questions and get a quick response. But, don't turn to Twitter while driving; either pull off the highway or ask a passenger to check it for you. 
2. Dynamic Message Signs 
If you forgot your phone, or it needs a charge, you can always look up and read ADOT's overhead message boards. These large signs provide emergency messages as well as safety information and travel times. With 18-inch-long, illuminated characters, it should be easy to see a sign warning you miles in advance that a highway is blocked.
*FIRE CLOSURE UPDATES, 7 a.m. Wed., June 9*

▸ US 60: Superior-Miami;
▸ SR 77: Globe-Winkelman;
▸ SR 177: Superior-Winkelman.
▸ US 70: Mileposts 256-302.
▸ US 180: MP 235-248#TelegraphFire #MescalFire #SlateFire #azfire #aztraffic

GET the apps: https://t.co/18uQYLoqla

— Arizona DOT (@ArizonaDOT) June 9, 2021
3. The Arizona Traveler Information System: Call 511, download the AZ 511 App and visit the AZ511.gov website.
Did you know we have a phone number you can call to check road conditions? Calling 511 will give you immediate information about unplanned crashes or closures. It also has a host of additional uses, including providing directions and information about parks while also allowing you to report those littering on the highway. 
Be in the know before you go and check your AZ 511 App or the AZ511.gov website. You will find information about closures, crashes, construction, plot a route or be informed there's a problem on your route. Among the array of tools at your fingertips is the camera icon, which allows you to view ADOT's network of cameras across the state.  
The app is the smartphone version of the website. Before you head out, check your route with one of these tools. 
Facebook provides news about sudden highway changes as well as features stories, photo layouts and in-depth articles about a variety of ADOT topics. We suggest checking our Facebook page when you are not behind the wheel of a car. 
For expanded information about closures, constructions, detailed looks at major news and projects, read our news stories and blogs on azdot.gov. 
5. Email updates
For information about construction and other projects sent right to your inbox, subscribe to email notifications. You will find out about upcoming road closures and other planned events.
So, in short, if you are already on the road, the ADOT Alerts app, AZ 511 app, Twitter and overhead message boards will alert you to problems. Before you head out, check out AZ511.gov or call 511. And for deeper dives about closures and other topics, read azdot.gov. If you want to know about upcoming projects, subscribe to email updates at azdot.gov/Subscribe.