Heed this message when it comes to MVD services
Heed this message when it comes to MVD services
By Doug Nick / ADOT Communications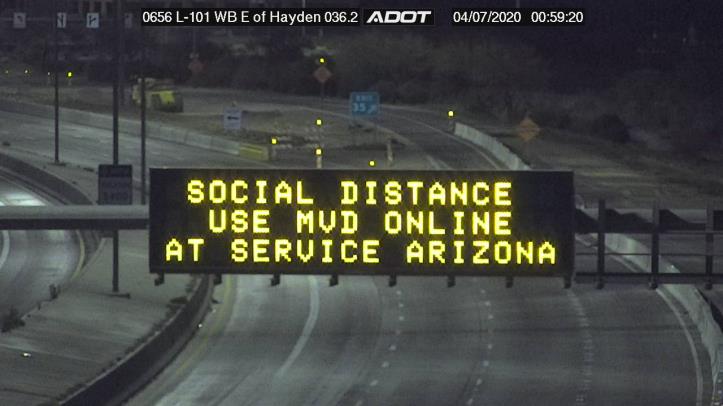 ADOT gets a lot of attention for the creative highway messages we put up from time to time. Occasionally, we get to have some fun with them, and that's usually when we get a little love that proves that people really do read these things. 
Their impact is huge. And that's why we're happy to see some very timely information being added to some of these signs. 
For much of April, you may see a message urging you to use ServiceArizona.com for your MVD needs. While that's always a good idea since more than two-thirds of MVD services are found there anyway, it's especially important now. The current public health situation means that while MVD offices are open, we're limiting the available services to just those that absolutely need to be done in person, and we require an appointment, too. It's all about social distancing and keeping everyone as safe as possible. 
We're helped by a couple of factors. The state has granted an automatic six month extension for driver licenses that were set to expire between March 1 and Sept. 1. Those office visits can be delayed. Also, the REAL ID deadline, which was Oct. 1, 2020, has been pushed back a full year. Getting your AZ Travel ID is still important, but it can wait.
That means very few things really need to be done in person. If you're unsure, you can call our statewide customer service number at 602.712.2700 between 7:30 a.m. and 4:30 p.m. Monday through Friday and a customer service representative will help you. Chances are, you can get things done online.
And if you're rolling down the highway, look for a message board with a friendly "SOCIAL DISTANCE USE MVD ONLINE AT SERVICE ARIZONA" reminder. And tell a friend.