Heed this sign's message
Heed this sign's message
By Doug Pacey / ADOT Communications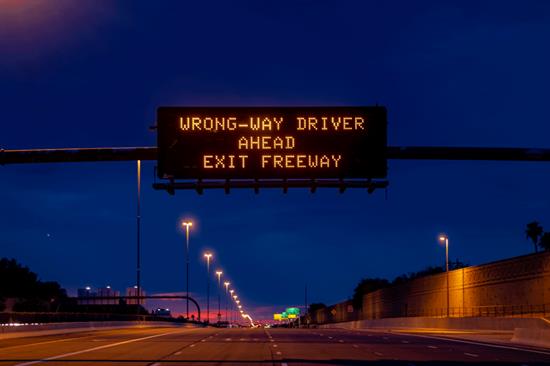 When ADOT is alerted to a wrong-way vehicle on the state highway system – via the pilot project thermal camera detection system or a 911 call – a number of safety countermeasures occur immediately.
One of those things is the activation of overhead message boards with a message that warns of an oncoming wrong-way vehicle. Perhaps you've seen the message, which reads, "Wrong-way driver ahead, exit freeway."
If you see this message, heed its warning and safely take the next exit. While we can't provide a standard answer for how long to avoid getting back on that stretch of highway because every incident is different, the safest option is to use an alternate route.
If you encounter a wrong-way driver, slow down by easing your foot off the gas. Make sure there's no vehicle next to you and steer away from the wrong-way driver. Get to a safe place, call 911 and report the wrong-way driver.
More information about avoiding wrong-way drivers as part of the "Drive Aware, Get There" safety campaign is available at azdot.gov/wrongway.