Here's the drill about current pre-construction activity along Interstate 10 in metro-Phoenix 
Here's the drill about current pre-construction activity along Interstate 10 in metro-Phoenix 
By Lisa DeForest / ADOT Communications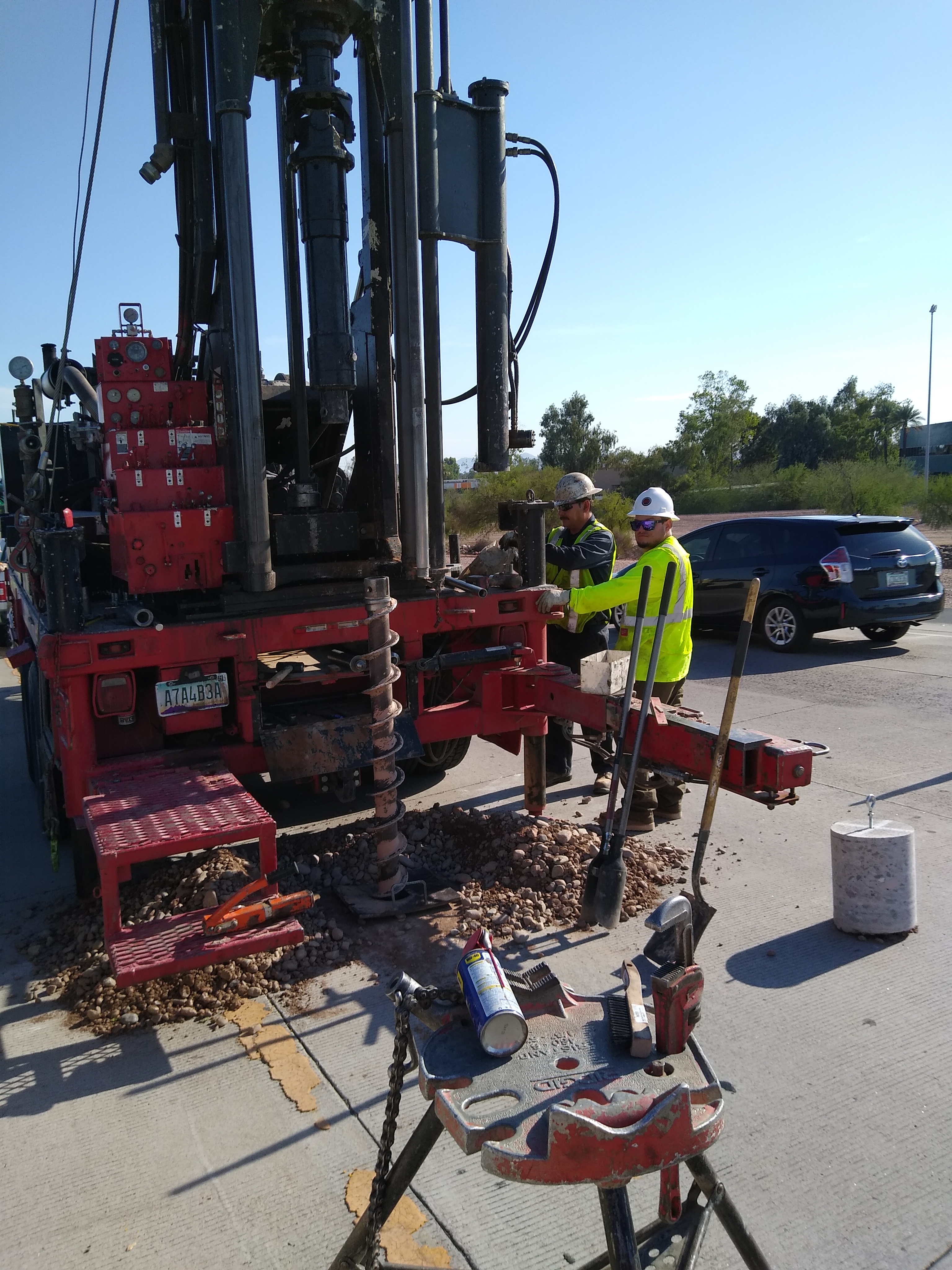 In the coming weeks, ADOT anticipates construction will begin on the ambitious Broadway Curve Improvement Project, the first major urban freeway reconstruction project in Maricopa County.  
The four-year project will bring improvements, additions and extra lanes to 11 miles on and around I-10, from the Loop 202 (Santan/South Mountain Freeway) to Interstate 17 near Phoenix Sky Harbor International Airport. 
If you've driven the route recently you may be wondering what's with all the large drilling equipment and weekend activity if construction on the project hasn't started yet?  
The work you're seeing is pre-construction geotechnical work. Crews are boring and drilling to test the soil conditions deep below the surface, a necessary first step prior to any freeway construction project. 
Crews began this preliminary work in mid-April, assessing the condition of soil, rock and depth of groundwater along the Broadway Curve Improvement Project alignment. This type of testing is essential to test the conditions of the earth underneath planned or existing structures, such as bridges, walls and freeway lanes.  
The 40-foot-tall vehicles you're seeing are truck-mounted Becker Hammer drill rigs, which bore deep into the soil and bring up a sample. The rigs can drill down as deep as 175 feet below the surface.  
For this project, these drills will generally sample from 80 to 125 feet deep if the boring is for bridge construction, and generally from 20 to 60 feet deep to test underneath future freeway walls. Once samples are collected they go to the lab, where the contents are tested and evaluated. 
In turn, the results of the tests and evaluations help determine how to design and build the highway and its many structures. 
"If the underlying soils are soft or loose, the foundation will need to be larger and deeper," said Ramon Padilla, P.E., geotechnical project manager for Broadway Curve Constructors. "We are exploring what's beneath the ground to evaluate the engineering properties of the subsurface (below ground) soil conditions, and design the foundations that will support the planned structures." 
Padilla said this geotech work will last at least a few more months and could overlap with the start of construction.  
The Broadway Curve Improvement Project is on 11 miles of I-10 between the Loop 202 (Santan/South Mountain Freeway) and I-17 near Phoenix Sky Harbor International Airport. Additional work will occur on approximately 1 mile of east- and westbound US 60 (Superstition Freeway) between I-10 and Hardy Drive, and on approximately 1 mile of north- and southbound State Route 143 between I-10 and the southern end of the SR 143 bridge over the Salt River.