Highway History: State Route 89 from Wickenburg to Ash Fork
Highway History: State Route 89 from Wickenburg to Ash Fork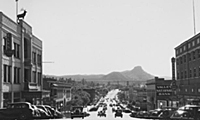 By Caroline Carpenter / ADOT Communications
The number 89 is prominent in Arizona's highway system. There's a State Route 89, US 89, State Route 89A and US 89A. There was even a US 89T (T stands for temporary) recently while US 89 to Page was being reconstructed.
While there may not be a significance to the actual number, we do know US 89 was the first north-south highway to cross the state. Here's where it gets complicated. The first north-south US 89 that traversed Arizona isn't where the current US 89 is located. In 1992, US 89 south of Flagstaff was decommissioned. Today, the portion through central Arizona is called SR 89 and connects Wickenburg, Prescott and Ash Fork. This section has also been designated as a historic highway.
Highway 89 was built in segments, starting in southern Arizona in the 1910s. The highway was built for stagecoaches, buggies and freight wagons. In the 1920s, the roadway expanded into central Arizona, followed by northern Arizona in the 1930s. Eventually this route was graveled and modified. Some spots even had modified shoulders for utility lines. Busier segments were covered with asphalt or concrete, suitable for automobiles and trucks.
When US 89 was officially designated in 1927, it was part of a federal government plan to create a continuous road from the Mexico border to Canada. In 1938, the finished highway spanned 1,600 miles, starting in Nogales, Arizona, and ending in Piegan, Montana. In Arizona, only sections of the original roadway remain part of the state highway system.