HOV lanes open up in Chandler and the West Valley
HOV lanes open up in Chandler and the West Valley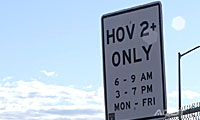 Several miles of new HOV lanes opened earlier this week in Chandler and the West Valley … just in time for the Monday morning commute!
ADOT opened the new stretches of High Occupancy Vehicle lanes along the Loop 202 Santan Freeway in Chandler and the Loop 101 Agua Fria Freeway in the Glendale and Peoria area.
The completion of the new eastbound Loop 202 carpool lane east of I-10 marks the end of an $84.7 million project to add 12 miles of HOV lanes in each direction between I-10 and Gilbert Road in Chandler . That project, which started in September 2010, included the addition of elevated HOV lane ramps that provide carpoolers with direct connections between Loop 202 and the Loop 101 Price Freeway as well as I-10.
Along the Loop 101, crews opened a 12-mile stretch of the new westbound and southbound HOV lane between 51st Avenue and Glendale Avenue. ADOT is adding 30 miles of new carpool lanes in each direction along Loop 101 between State Route 51 in north Phoenix and I-10 in the West Valley . Work on that $90 million project began in January of this year. Sections of the new lanes have been opened in stages as the project advances. The plan is to open another segment Monday morning. After this weekend, the entire stretch of HOV lane (heading west to south) from SR 51 to Thomas Road will be open. All the carpool lanes are scheduled to be open to traffic by next month (November).