On I-17, travelers receive the gift of time -- estimated travel times, to be exact
On I-17, travelers receive the gift of time -- estimated travel times, to be exact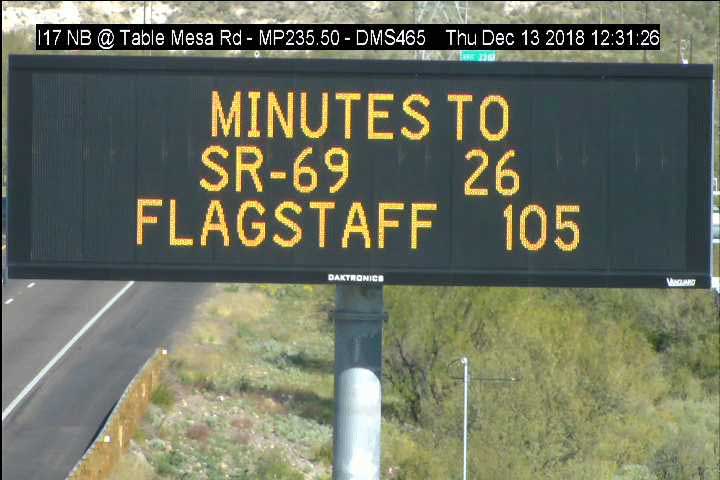 By David Rookhuyzen / ADOT Communications
Just in time for holiday travel, ADOT is giving drivers on Interstate 17 an answer to the eternal questions of "When will we get there?" and "How much longer?"
Those traveling between Phoenix and Flagstaff now see estimated travel times to their destinations on our digital message boards, something Valley motorists have enjoyed for decades. This test display now shows how long it'll take to reach destinations such as Cordes Junction, Prescott, Sedona and Flagstaff.
But these travel times are more than just a nifty feature or a way to keep people in the back seat complacent. During winter weather or when incidents cause delays, these signs can help drivers make informed decisions on the best route to take to get to where they are going. Delays due to a crash might have a northbound I-17 driver decide that State Route 260 is the best way to get to Sedona or a southbound driver determine State Route 69 will get them to Prescott faster than State Route 169.
Real-time data for the traffic times come from INRIX, a mobility analytics company that helps transportation agencies monitor, measure and manage traffic information. This is different from how travel times are estimated in the Valley, using ADOT's in-pavement traffic-flow sensors. ADOT designed a software application to automatically process INXRIX's data for I-17, with the upside being that it could eventually be expanded for use on other busy state routes.