I-17/SR 89A intersection improvements wrap up near Flagstaff
I-17/SR 89A intersection improvements wrap up near Flagstaff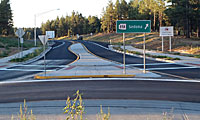 It's been a while since we last checked in up north on the I-17/JW Powell traffic interchange improvement project.
You remember this one, right? It was designed to improve traffic patterns and flow in the area near Fort Tuthill County Park by realigning SR 89A/Beulah Boulevard and constructing two roundabouts to provide a safer transition for traffic through the intersections.
Construction began in June 2014, but crews were actually at the site a year before that to thin out the trees in the project areas.
Before the project started, drivers were faced with one intersection (SR 89A/JW Powell Boulevard – also the south entrance to the Fort Tuthill County Park) that was very close to another intersection (JW Powell/I-17, which leads to the I-17 southbound ramps).
Now, for an update…
It's done! Work is wrapping up and crews are in the process of pulling down construction signs. As you can see from the photo above, the area looks different than it did when construction was underway.
OK, so that update was short, but we also want to thank drivers for their patience during construction.
If you'd like to learn more about this project, please revisit our previous post and check out this informative video that gives a great overview of why the improvements were needed.