Improvements make for smoother, safer ride on SR 88
Improvements make for smoother, safer ride on SR 88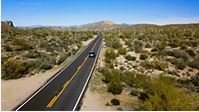 By David Woodfill / ADOT Communications
Hey weekend warriors, your trips to Canyon Lake and beyond just got nicer on State Route 88, also known as Apache Trail.
We've resurfaced sections, installed rumble strips and replaced old guardrails among $6.5 million of improvements that started last fall. Check out the video above for details.
As we shared recently in announcing completion of this project just east of Apache Junction, drivers still hold the keys to safety.
Because of the terrain it travels through and the date when it was created (to help those building Roosevelt Dam a century ago), Apache Trail is winding and requires a lower speed limit. So slow down, drive alert and ALWAYS designate a sober driver.
The improvements we've made will make for a smoother and safer ride. Now we're trusting you to do your part.