Inflating awareness about tire pressure
Inflating awareness about tire pressure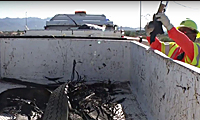 By Doug Pacey / ADOT Communications
As summer temperatures heat up, we want to inflate awareness about the importance of maintaining proper tire pressure.
Annually in the U.S., there are about 11,000 tire-related crashes that result in about 200 deaths, according to the National Highway Traffic Safety Administration under-inflation is a leading cause.
SaferCar.gov offers these tips will keep your vehicle's tires in shape:
Inflate your tires according to the pressure specified in your vehicle's manual or tire information label on the driver's side door edge.
Properly inflating tires improves fuel efficiency, providing as much as 11 cents more value per gallon.
Follow your car's maintenance guidelines and rotate tires as specified. Also, be sure they are balanced and aligned correctly for optimal performance.
Check the tread on your tires. Tires should be replaced when tread is worn down to 2/32 of an inch. Running out the clock on your tires can result in a blowout.
Many newer vehicles have automated tire pressure monitoring systems. Typically, these alerts are sent when a tire is significantly deflated, making regular checks is a good idea. Keep a tire pressure gauge in your glove box.
Not only will properly maintained tires keep you safer, it will keep shredded tire carcasses – sometimes called "road gators" – from creating safety hazards on our highways, roads and streets.