An important reminder for Hit and Run Awareness Month
An important reminder for Hit and Run Awareness Month
By David Rookhuyzen / ADOT Communications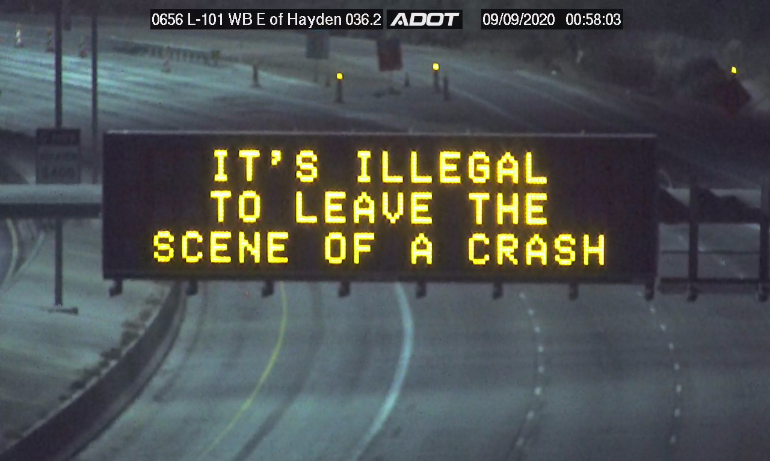 This goes without saying, but we would prefer that no one got into a crash, especially one with serious injuries.
But should a crash happen, there's something important to remember: You need to stay at the scene. 
That's the message you will see on our overhead digital message boards this week. Why, you might ask? Well, according to our annual Crash Facts, in 2019 alone there were more than 15,000 hit-and-run crashes statewide, which resulted in nearly 3,500 people injured and 62 fatalities.
And if those numbers aren't enough, here's another reason to remind drivers not to leave the scene of a crash: It's illegal.
"Leaving the scene of an accident is not only irresponsible, but also a crime," said Bart Graves, a spokesman for the Arizona Department of Public Safety. "Arizona State Law requires any motorist involved in a crash to stay on scene and provide their information."
In fact, if someone leaves the scene of a serious-injury or fatal crash, it's a Class 3 felony in Arizona.
In 2018 Governor Doug Ducey issued a proclamation declaring October to be Arizona Hit and Run Awareness Month. As part of that proclamation the governor called "upon Arizonans to acknowledge the severe impact that hit and run drivers create in the lives of those involved in these types of accidents."
Jesse Romero knows what that impact feels like. In October 2010 his 18-year-old son, Joey, was killed by a hit-and-run driver while walking home from work in Peoria. Since then Romero has worked with Peoria officials and state legislators to push for stricter hit-and-run laws. One result was Senate Bill 1163, nicknamed Joey's Law, that was passed by the state legislature in 2012. It made the punishment for leaving the scene of a serious injury crash a five-year driver's license suspension, or a 10-year suspension for leaving the scene of a fatal crash. Joey's Law also says the suspension starts after a person is released from any jail or prison time associated with the incident.
Romero continues to raise awareness about hit-and-run crashes. He said his message to drivers is no matter how bad the circumstance of a crash is, running from the scene only makes it worse. For the driver it means avoiding strict penalties, but for the victim someone staying on scene could be the difference between life and death.
"If you get into a crash, don't panic. Please stop. You can help someone; you might be able to save a life," Romero said.