An INFRA-red-letter day for improving Interstate 17
An INFRA-red-letter day for improving Interstate 17
By Doug Nintzel / ADOT Communications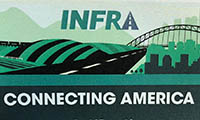 For those of us looking forward to new lanes being added to Interstate 17 in the Anthem and Black Canyon City region, this week was another important one as ADOT prepares to start construction in less than two years.
The Federal Highway Administration provided great news that Arizona will receive a $90 million Infrastructure for Rebuilding America (INFRA) grant to help fund the big project that will improve I-17 between Anthem Way and Sunset Point Rest Area.
The photo above shows ADOT Director John Halikowski at right, in Washington for a ceremony led by U.S. Secretary of Transportation Elaine L. Chao, who is in the center. 
The $90 million INFRA grant for Arizona was the second-largest among more than $855 million in such grants provided by the Federal Highway Administration. It followed a $125 million grant awarded to Alabama for construction of a new bridge over the Mobile River channel.
The federal grant will help fund the construction of a flex lanes system between Black Canyon City and Sunset Point (more on the flex lanes below) and add third lanes in both directions along 15 miles of I-17 between Anthem Way and Black Canyon City.
This is the latest positive news about available funding for the I-17 improvements north of Phoenix. The budget approved by the state Legislature and signed by Governor Doug Ducey included an investment of $130 million in state funds to allow full construction of the third lanes between Anthem Way and Black Canyon City as part of the larger project.
And here's a little more information about the I-17 flex lanes, in case you're not familiar with them. They will be built as a separate two-lane facility next to the existing southbound lanes along the 8 miles between Black Canyon City and Sunset Point. These new lanes will be used to carry one direction of traffic at any one time depending on traffic needs.
For example, northbound traffic will have access to the flex lanes on a Friday or southbound traffic will be able to use the new lanes on a Sunday when a lot of drivers are returning to the Valley. This system also could provide lanes in either direction if an incident were to close the regular I-17 lanes in the area between Black Canyon City and Sunset Point.
Safety is ADOT's top priority when it comes to the flex lanes. Yes, there will be movable gates at each end to control access. Barrier wall also will separate the flex lanes from the adjacent regular southbound I-17 lanes.
Available funding for the I-17 improvement project will allow construction to start by 2021 and be completed by 2023.