Join us as we present options for adding capacity to I-17 north of Valley
Join us as we present options for adding capacity to I-17 north of Valley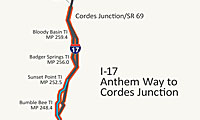 By David Woodfill / ADOT Communications
Excited about news that ADOT and the Federal Highway Administration are developing plans to add capacity to Interstate 17 just north of the Valley?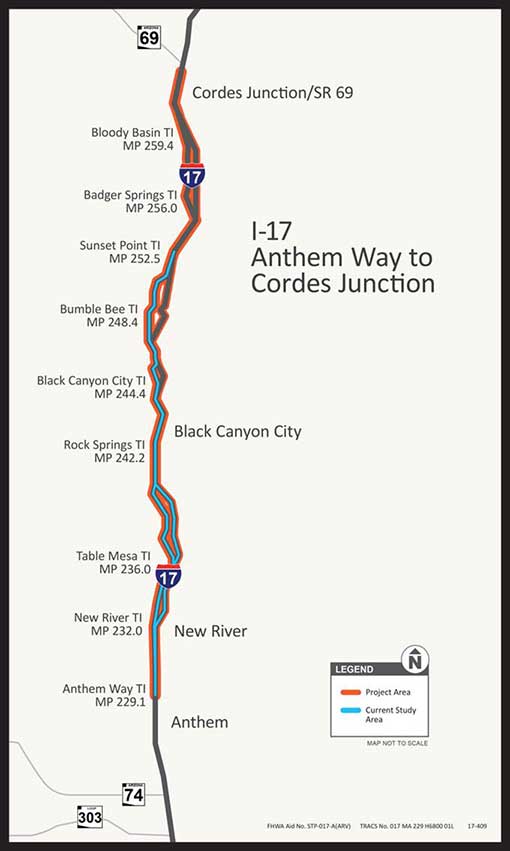 Then you'll want to join us next week for a public meeting at which ADOT planners will discuss potential improvements between Anthem and Cordes Junction. These include the concept of flex lanes, a separate pair of new lanes for use in the busiest direction of travel or during a closure, on the grade between Black Canyon City and Sunset Point.
We hope residents, business owners and other stakeholders will join us at 6 p.m. Tuesday, April 3, at Cãnon Elementary School at 34630 S. School Loop Road in Black Canyon City. In addition to learning more about the options, participants can submit comments.
Those who can't attend the meeting can send their thoughts to [email protected]. For more information on options, please visit the project page at azdot.gov/I17AnthemWaySR69.
With the help of funds from the Maricopa Association of Governments, the Phoenix area's transportation-planning agency, construction to add new I-17 lanes in areas between Anthem and Black Canyon City is currently scheduled for fiscal years 2021-22.