Keeping tabs on South Mountain Freeway progress in West Valley
Keeping tabs on South Mountain Freeway progress in West Valley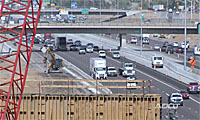 By Dustin Krugel / ADOT Communications
Construction is occurring along 95 percent of the 22-mile corridor that will become the South Mountain Freeway.
Recently, ADOT's video team got a first-hand look at progress on the west end of the project. You can see the result above.
First up is the I-10/Loop 202 interchange that ADOT and Connect 202 Partners, the developer of the South Mountain Freeway, are building near 59th Avenue. It's easily one of the most visible signs of South Mountain Freeway construction in the Valley as nearly 200,000 vehicles pass through this busy area daily.
The interchange will include five flyover ramps to seamlessly carry traffic to and from I-10 in the West Valley. In fact, the video interview with Rob Samour, ADOT's lead engineer on the project, is atop a ramp nearly 100 feet above I-10 traffic. This 1,565-foot-long bridge will carry northbound South Mountain Freeway to westbound I-10.
Next up is visiting the two largest structures on the project: two half-mile-long bridges over the Salt River between Broadway Road and Southern Avenue at 59th Avenue, about 4.5 miles south of the I-10/Loop 202 interchange.
At this location, ADOT is installing the longest bridges girders of their type in the state. These precast concrete girders are essentially support beams that weigh 169,000 pounds and are 170 feet long. That's 9 feet longer than ADOT's current longest span for a similar girder type.
Our last stop is Laveen, where the Elliot Road overpass opened to traffic in April and now the first lane mile of freeway has been paved north and south of this location.
While work is now over halfway complete on the South Mountain Freeway, Samour reminds everyone that there's still a lot of work to be completed.
"We ask for patience for the motorists," he says. "We are going to have some restrictions in place for the next 15 months but the end result will be better connectivity for motorists in the East and the West Valley."