Key ADOT projects move forward this year in Phoenix, Tucson and statewide
Key ADOT projects move forward this year in Phoenix, Tucson and statewide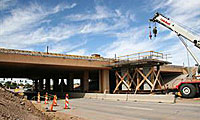 We're only a month in, but 2015 is already looking like it'll be a big year for ADOT...
Several new and existing projects are in the works – below is a list of highlights from this recent ADOT news release. All of the projects will be funded with federal and state highway funds, which are collected through gas and vehicle license taxes. In the Phoenix and Tucson metropolitan areas, voters have approved supplemental tax revenue that enables more transportation projects to move forward in their respective regions.
 
Phoenix-Area Projects for 2015
Loop 202 South Mountain Freeway
ADOT expects to release the Record of Decision for the long-proposed South Mountain Freeway this spring and work toward selecting a contractor for the proposed $1.9 billion project. The 22-mile-long freeway would run east and west along Pecos Road and then turn north between 55th and 63rd avenues, connecting with I-10 on each end. The South Mountain Freeway is also part of the Regional Transportation Plan funding passed by Maricopa County voters in 2004 through Proposition 400.
Loop 101 and Loop 202 Widening Projects in East Valley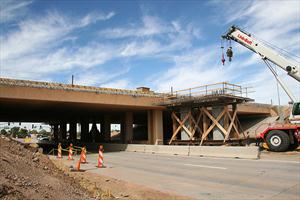 Much of the focus on freeway improvements in the metro Phoenix area will remain on projects that broke ground in 2014 and are due for completion in 2016. The $73 million Loop 101 widening project between Shea Boulevard and Loop 202 (Red Mountain Freeway) in the Scottsdale area is adding an additional lane in each direction along 11 miles of the Pima Freeway, as well as merge lanes between most major interchanges. The $109 million project to widen the Loop 202 Red Mountain Freeway between Loop 101 in Tempe and Broadway Road in east Mesa also will advance, with new general purpose lanes being added between Loop 101 and Gilbert Road, along with HOV lanes between Gilbert Road and Broadway Road.
Interstate 10/Loop 303 Interchange
Among the new freeway projects scheduled to start this year is the "south half" of the Interstate 10/Loop 303 Interchange, which will complete all ramp connections between the two freeways in Goodyear. Work is expected to start this fall. The north half of the interchange opened last August and, combined with a widened Loop 303 north of I-10, has been embraced by West Valley communities as much-needed infrastructure to help drive economic development in the region.
Additional Loop 303 Improvements in Northwest Valley
Farther north along Loop 303, ADOT will launch a project to add an interchange at El Mirage Road by this spring. The new interchange will be built at the same time that crews are improving Loop 303 into a six-lane freeway between Grand Avenue (US 60) and Happy Valley Parkway in Peoria. A third project already underway is creating improved connections at the Loop 303/Grand Avenue interchange. All three projects are scheduled for completion in 2016.
US 60 Improvements in Surprise
Also in Surprise, a project to build a Bell Road bridge over Grand Avenue (US 60) and new ramps connecting the two roadways is scheduled to start late in the year, after a design-build contracting team is selected by ADOT.
Tucson-Area Projects for 2015
Interstate 19 Traffic Interchange Reconstruction (Ajo Way)
In 2015, ADOT will begin work to replace the existing Interstate 19 traffic interchange at State Route 86, also known as Ajo Way, with a single-point urban interchange. The modern interchange will feature a single set of traffic signals, rather than signals at multiple locations. The $86 million project is expected to improve traffic flow and enhance safety for motorists traveling through Tucson's southwest side. Construction is expected to continue through 2017 and will also include widening I-19 from Ajo Way to Irvington Road and widening SR 86 to three lanes in each direction between 16th Avenue and Holiday Isle.
State Route 77 Widening (Tangerine Road to Pinal County Line)
After starting work in summer 2014, ADOT will continue efforts to upgrade a six-mile section of SR 77 (Oracle Road) between Tangerine Road and the Pinal county line from two lanes to three lanes in each direction. Along with widening the roadway, planned improvements include raised medians, traffic signal and drainage improvements, wildlife crossings, sound walls and multiuse paths. The $33.9 million project is slated to take two years to complete.
State Route 86 Widening (Valencia to Kinney Roads)
In 2015, ADOT is expected to begin construction on expanding SR 86 (Ajo Highway) in each direction from Valencia to Kinney roads in Pima County, 10 miles west of downtown Tucson. This seven-mile-long, $55 million project in Pima County will enhance safety and improve traffic flow on the highway, which serves as a regional transportation route between Tucson and south-central Arizona. SR 86 provides access to the Tohono O'odham Nation and is widely used to reach the popular tourist destination in Mexico called Puerto Peñasco, also known as Rocky Point.
Statewide Projects for 2015
Northern Arizona
US 93 Widening (State Route 71 to State Route 89 and Antelope Wash sections)
ADOT will continue long-standing efforts to transform the heavily traveled corridor between Phoenix and Las Vegas into a modern four-lane divided highway throughout the entire 200-mile stretch with two US 93 widening projects this year. After beginning last year, ADOT will complete upgrading a three-mile segment of US 93 (Antelope Wash), located approximately 20 miles north of Wikieup (mileposts 101-104) this summer. A second US 93 widening project (State Route 71 to State Route 89), just north of Wickenburg (mileposts 185-190), is expected to break ground this spring.
State Route 89A Spot Widening (Vista Overlook to JW Powell)
This $22.5 million project is slated to improve safety and traffic flow by widening the roadway and constructing passing lanes entering and exiting Oak Creek Canyon through an eight-mile stretch from the popular tourist destination Vista Overlook to the JW Powell interchange, three miles south of Flagstaff. Design of the project is nearly complete and ADOT hopes to start construction this year.
Interstate 40 Pavement Improvements (various projects)
ADOT has several major resurfacing projects in the works along the nearly 360-mile-long I-40, which is one of Arizona's Key Commerce Corridors, as it stretches from California to the New Mexico state line, Three major pavement preservation projects are set to take place in 2015. This spring will complete final paving on the Rattlesnake Wash to US 93 (mileposts 57-72) section east of Kingman after the project began last summer. Later this year, ADOT will start two new resurfacing projects east of Flagstaff, including the Navajo county line to Minnetonka (milepost 250-259) and Walnut Canyon to Twin Arrows (milepost 214-218) segments.
US 89 Landslide Repairs (near Bitter Springs)
ADOT is scheduled to reopen US 89 south of Page after the highway was closed on Feb. 20, 2013 after a landslide caused serious damage to the highway near the Echo Cliffs. Major work on the repairs began on Aug. 11, 2014 as crews began excavating nearly one million cubic yards of rock near the highway to build a buttress, which will stabilize and reinforce the mountain slope that carries the roadway. The $25 million repair project remains on target to reopen to traffic this spring, in advance of this summer's tourism season in Page and Lake Powell.
Southern Arizona
US 60 Widening (Silver King/Superior Streets)
This spring, ADOT is expected to start a project to convert the last remaining two-lane roadway segment on US 60 between Phoenix and Superior into a modern, four-lane divided highway. The $45 million project (mileposts 222-227), which will also include improving the urban section of highway in Superior, is expected to take two years to complete.
US 95 Fortuna Wash Bridge
This $13.5 million project is part of a larger corridor improvement project for US 95, the north and south corridor between Yuma and Quartzsite. US 95 is also the main route to the Yuma Proving Ground, which is one of the largest employers in Yuma County and one of the Army's busiest training sites in the U.S. This project includes a bridge over Fortuna Wash, which often floods during heavy rains. This project is scheduled to begin in the spring.
US 95 San Luis Street Improvements
This $11 million project includes reconfiguring San Luis Port of Entry traffic off US 95 in San Luis to facilitate business along Main Street. The project, which began in October 2014, will help the circulation of traffic, enhance pedestrian safety and improve access to downtown businesses near the U.S.-Mexico international border. Work will be completed this year.
Major Studies
Interstate 11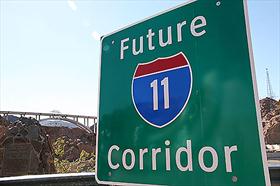 ADOT's Interstate 11 and Intermountain West Corridor Study continues to move forward. This year, work will begin on an Environmental Impact Statement which will allow ADOT to begin an environmental study in the area between Nogales and Wickenburg, part of the proposed Interstate 11 and Intermountain West Corridor. The $15 million Tier 1 Environmental Impact Statement is expected to take three years to complete, once work gets underway later this year. Interstate 11, which will connect Arizona to the entire Intermountain West, is one of our state's Key Commerce Corridors. I-11 is being planned as a multimodal freight corridor and a manufacturing belt that will drive trade, commerce, job growth and economic development while facilitating strong connections to other major markets.
Passenger Rail
The next major step for ADOT's Passenger Rail Corridor Study: Tucson to Phoenix is to publish the Draft Environmental Impact Statement for public review. Three public hearings will be held later this year in Maricopa, Pinal and Pima counties to allow community members to comment on the recommendations of the study. Following the public review process, the final recommendations and environmental considerations will be issued on the Final Environmental Impact Statement for federal approval. ADOT is currently evaluating three final rail alternatives. The Passenger Rail Corridor Study is expected to be completed later this year. ADOT's mission is to evaluate and implement modes of transportation to provide a well-balanced, flexible transportation system that moves people and commerce throughout Arizona.