Landform graphics help with dust, erosion (and they look nice, too)
Landform graphics help with dust, erosion (and they look nice, too)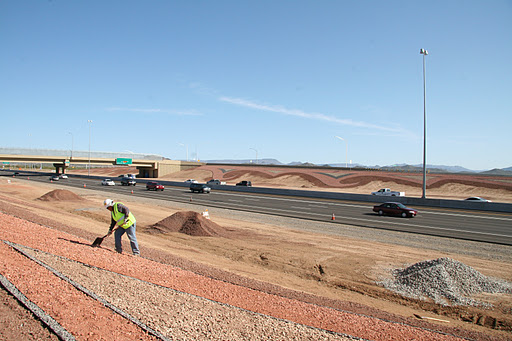 As ADOT employees, we naturally get a lot of transportation-related questions thrown our way by friends and family... it's just something that comes with the job!
By far, one of the most frequently asked questions has to do with HOV lanes and why ADOT builds them after the freeway is constructed (we answer that one here, by the way).
But, another question we regularly get focuses on the rock landscaping surrounding our Valley freeways.
People want to know why we don't just use trees and shrubs instead of rock. Others wonder why we landscape the area at all.
Well, here's the answer...
The main purpose of all freeway landscaping is really a practical one ... it helps control erosion and dust.
According to ADOT's Chief Landscape Architect LeRoy Brady, anything that breaks up the rainfall (such as rock landscaping) or has a root system and holds soil together is going to help handle erosion.
As for dust control, Brady says rock landscaping and other types of plant-based landscaping help simply by covering the dirt.
"Because you don't have bare soil, you don't have the dust. It eliminates the dust source," he said.
The type of rock that's used matters, too.
Brady says his department sponsored a study that researched what size and grade of rock would work best for controlling erosion. The study was completed about 23 years ago, but the information is still used today.
Not only does landscaping help with erosion and dust, it has the added benefit of improving the aesthetics along freeways!
Rock landscaping is less expensive to maintain than planting and trimming trees and shrubbery... and rocks don't exactly require a lot of water.
ADOT works with the local communities to determine how to enhance the scenery along the freeways. Take for example the landscaping project along the recently upgraded I-17 in the north Valley.
ADOT worked with the city of Phoenix to create the landscaping theme and settle on designs, which are created to reflect Arizona's heritage and environment.
Brady says "context-sensitive design" is an effort in transportation to design and construct environmentally sound projects that fit and relate to the community, "instead of something that's foreign and has no relationship."
Along I-17, great care was taken to create designs that really fit the community.
About 15 colorful landform graphics made of crushed granite have been created for the project. There are a few Gila Monsters that have now taken shape at the Carefree Highway interchange and along the slopes at the Jomax Road interchange there's a design patterned after a Hohokam water bowl.
It's a challenging prospect to take a landscaping pattern from paper to the extra-large canvas of a freeway slope...
The process starts with site visits. Crews use flexible PVC piping and rope to set patterns before using spray paint to outline the design on the ground. Metal edging is then used to create the borders for the different sections of the colored rock and then the rocks are put in place.
Landform graphics and rock landscaping aren't the only affordable and sustainable options for our freeways.
The location of the freeway often plays a role in determining what type of landscape to go with, as it did on a recently completed stretch of Loop 303.
There's a lot more to freeway landscape design that we'll cover in future blog posts. In the meantime, check out ADOT's Roadside Development Web page.